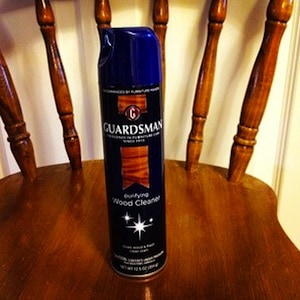 We don't have a house full of nice things. It's been a pretty conscious decision by my husband and I to furnish our home with a variety of Ikea and Target furniture pieces, along with a few secondhand items we've received from family members.
We got married and purchased our house soon after. At that time, we hoped that babies would be in our future, and it just never made sense to put together a home with lots of expensive, not-family-friendly furniture and accessories. After all, we both knew it would only end up being crazily protected or just ruined because we became tired of keeping little hands and bodies away from it.
I do know, however, that there's likely some heirloom furniture in our future. My own parents have saved memorable furniture from family members of generations past. In addition, my husband's parents have a gorgeous collection of antique items that consists of pieces from our family's history as well as carefully selected items that they've purchased over the years.
While we don't have many of those heirloom items right now, family members have begun to share select items with us. The items we've received have been appreciated, but they require lots of extra care, especially with two toddlers running around the house!
A good example of items that we've received is a set of wooden chairs like this one: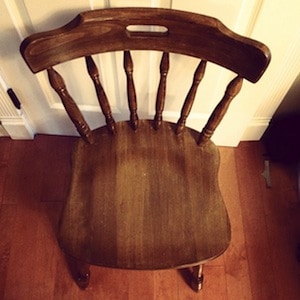 It looks pretty nondescript, but this chair is solid wood with a gleaming finish and quite a bit of detail in the rungs and spindles. It's also special because it's from my grandma. As nice as it is, it's also useful, and we keep one of them in our kitchen to provide extra seating for company.
I must say, however, that it's not uncommon for me to look over at this chair and see something like this: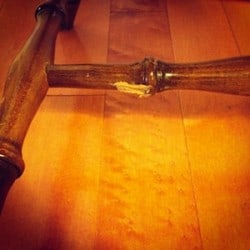 Yep. That's peanut butter. In this case, I'm guessing it was from a sandwich that Piper opened up, picked apart and "shared" with the dog when my back was turned. I'm actually a little surprised that the dog didn't do a better job cleaning up!
Since the peanut butter was dried and hardened, I knew this was the perfect time to try out my new can of Guardsman Purifying Wood Cleaner. I just sprayed some of the cleaner on a rag and wiped down the rung of the chair. A few swipes later and it was clean! It didn't leave a residue behind, and the wood was as glossy as ever after cleaning it.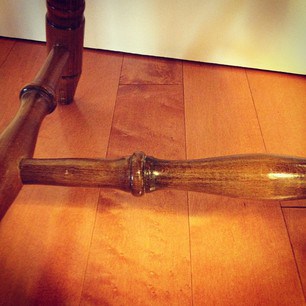 I was just paging through the newest issue of Real Simple magazine and I found The Definitive Cleaning-Products Road Test article. I perked up a little bit when I saw that Guardsman Purifying Wood Cleaner was rated the best surface-specific spray for wood. As it was among 345 products tested, that gives it a bit of cleaning clout!
Guardsman is running a Stop Cleaning. Start Caring. campaign featuring design star Tracy Hutson. Visit Guardsman online and share your favorite furniture picture and brief story for a chance to win a personalized design experience with Tracy Hutson, $1,500 for a room makeover and suite of Guardsman products!
Finally, the icing on the cake is that Guardsman is kicking off the Stop Cleaning. Start Caring. campaign with a sweet $25,000 donation to Habitat for Humanity! 
You can buy Guardsman Purifying Wood Cleaner for about $6 at Bed Bath & Beyond stores and at various fine furniture stores.
I wrote this review while participating in a blog tour campaign by Mom Central Consulting on behalf Guardsman Furniture Care and received a Guardsman product and a promotional item to thank me for taking the time to participate.