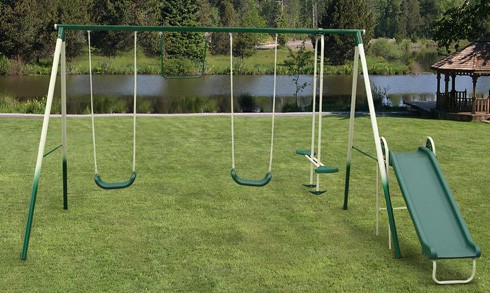 Giveaway has ended. Congratulations to Julie!
When I was a little kid, warmer spring weather always meant that it was time to play outside again. I have lots and lots of fond memories of playing in the backyard at our house, our neighbor's house and my aunt & uncle's house. One thing was for sure: if there was a swingset, I wasn't bored!
As soon as Haiden and Piper were big enough to enjoy being outside, I knew it was only a matter of time before we put a swing set in our backyard. Thanks to Hayneedle, we got one earlier than expected! Hayneedle generously sent us the Sportspower 5-Station Swing Set to try out, and I'm super-happy with this swing set!
Note: please don't forget that I'm a Minnesota mom blogger! That means I was teased with warm weather when I first started talking to Hayneedle in February. I completely dismissed the idea that the ground might still be frozen when the swing set arrived. Of course, the ground now seems like it will never thaw, so we assembled the swingset in our driveway and posed Haiden for photos. He and Piper will actually use and play on the Sportspower Swing Set when we can anchor it safely into the ground. See below for more information on the ground anchors Hayneedle also provided.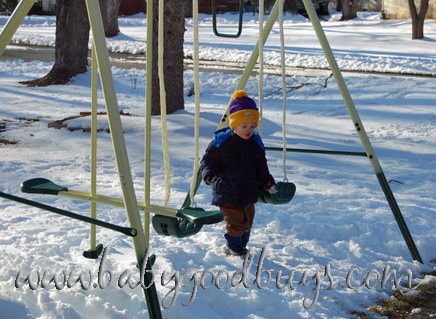 Sportspower 5-Station Swing Set Assembly:
The Sportspower 5-Station swing set arrived in a box that was only slightly bigger than a golf bag with clubs in it. It was much heavier than a set of golf clubs; 83 pounds, according to the FedEx label! Since the box was a nice size, I was able to move it by dragging it across the garage floor to where I wanted it.
My husband, James, did most of the assembly of the framework, but I observed and got his input on the process. I was immediately impressed with the contents of the box. All the pieces were individually packaged in plastic, and each one was clearly labeled with its part number. The hardware that was included was packaged amazingly well, and I regret that I didn't snap a photo of it! All the hardware was set on a single, flat piece of labeled cardboard, and the entire bundle was shrinkwrapped to keep the pieces in their labeled place. It made it super-easy to find the pieces we were looking for as we put the swing set together.
Overall, the assembly instructions for the swing set were straightforward and easy to read. I did have a small hiccup when I didn't understand how the lines and arrows connected on the instructions; I wasted about 15 minutes trying so hard to get two pieces of the slide ladder together that just wouldn't fit! This was 100% user error. My husband took one look at the diagram and pointed out exactly what I was supposed to be doing.
Once the frame was assembled outside, James brought the smaller parts inside so we could work on them together. The Sportspower Swing Set even included all the tools needed to assemble the entire piece of equipment! That being said, if you have your own tools, even just a set of screwdrivers and wrenches, I recommend using your own instead of the ones that are included. While they'll get the job done, they're not all that comfortable or quick to use.
The entire swing set assembly process took just under four hours.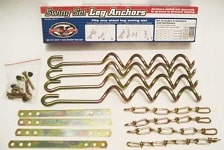 Once the ground thaws and we're ready to permanently install the Sportspower 5-station Swing Set in our backyard, we'll be using this Swing Set Ground Anchor Kit to secure the swing set safely into the ground. As a slightly paranoid mom (I've been called "Captain Safety" a number of times!) I'm so happy that this kit includes everything necessary to keep the set from tipping over. The anchor kit includes:
4 solid steel auger anchors
Metal collars
hardware and chains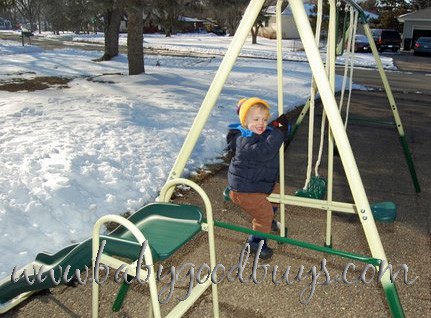 Sportspower 5-Station Swing Set Review
I have to say that this is a wonderful swing set for toddlers. While it might not have all the bells and whistles of a fancy wooden backyard playground, Haiden and Piper need little more than a slide and a swing to make them happy! The entire setup consists of:
2 plastic swings
2-seat glider
Metal trapeze bar
Plastic slide
Someone paid a lot of attention to detail when designing this swing set. It's not a complex design, but there are a few things that I'm really happy to see:
The chains for the swings are "safety-coated" with a rubber/plastic tube that keeps little hands from getting pinched.
The slide has tall edges (bumpers) that will keep kids from falling off the side
The screws that secure the components to the top of the swing set frame have rubber caps to prevent them from rusting: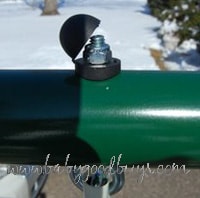 This is something that I wouldn't have noticed had it not been there, but it's a great safety feature to ensure that all the parts that hold children won't rust out.
I honestly don't have anything negative to say about this swing set! The regular retail price of theSportspower 5-Station Swing Set is $349.99, but it's currently on sale for $169.98. That's an amazing value for an item that can be a relatively permanent fixture in our yard. I am so thrilled to have one for Haiden and Piper to play on, and I'm sure they'll be using it for years and years!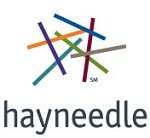 Since Hayneedle.com was gracious enough to sponsor the giveaway below, I want to give them a quick mention here. In addition to swing sets, Hayneedle carries plenty of other outdoor products, including  swings and trampolines!
Hayneedle also owns The Foundary, which is a fantastic flash sale site that I've mentioned several times on Baby GoodBuys. If you're not already signed up, you can sign up for The Foundary and be ready for hot deals!
Want to Win a Sportspower 5-Station Swing Set?
One reader will win a Sportspower 5-Station Swing Set :: a $350 value!
MANDATORY ENTRY:
Leave a comment below answering the following question: What product(s) do you most love from Hayneedle.com?
OPTIONAL EXTRA ENTRIES FOR MORE CHANCES TO WIN (leave a comment for each extra entry):
2 extra entries for verified subscribers to BabyGoodBuys.com via email
1 extra entry for following via Google Friend Connect (right sidebar)
1 extra entry if you like Baby GoodBuys on Facebook
1 extra entry if you like Hayneedle on Facebook
1 extra entry if you follow @BabyGoodBuys on Twitter
1 extra entry if you follow @Hayneedle on Twitter
1 extra entry if you mention and link to this giveaway in a blog post
1 extra entry for tweeting the exact phrase below (once per day, leave a link to your tweet):
I just entered a #giveaway to #win a $350 swing set! Follow @BabyGoodBuys and visit http://bit.ly/gAyMVW to enter! #wingiveaways
1 extra entry for sharing this giveaway on any current online giveaway linkys, forums or contest sites. Unlimited extra entries! One entry per site you submit it to; Linky must be new within the past 7 days.
*************************************
Contest Details & Rules: Contest ends on 4/15/2011. United States residents only. Valid email address is required. All entries without a valid email address will be disqualified. Duplicate, fraudulent and/or invalid entries will be disqualified.Winning email notification must be responded to within 48 hours or that winner will forfeit the prize and a new winner will be selected. Winner will be selected with the And the Winner Is WordPress Plugin. Winner will be notified via email. A screenshot of the winner selection will be saved and provided upon request. Winner's first name will be posted on this giveaway/contest post. All questions should be directed to babygoodbuys(at) gmail(dot)com.
If you are the winner of this giveaway please do not contact the sponsoring company or any other business mentioned with questions about prize fulfillment. All questions should be directed to me at babygoodbuys(at)gmail(dot)com. Contacting anyone other than me may disqualify you from prize fulfillment.