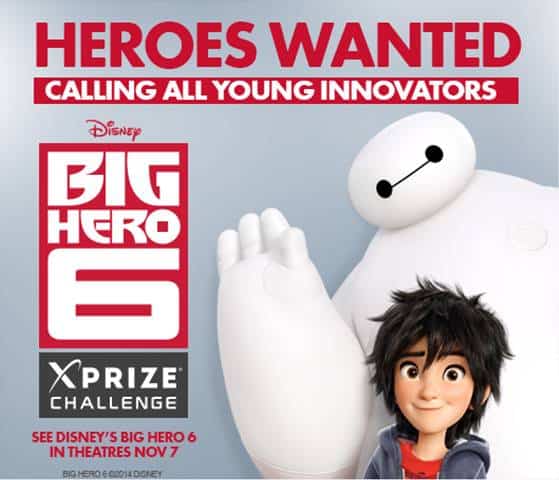 XPRIZE just launched a contest exclusively for 8-17 year-olds to create a real-life Big Hero 6!
Six winners will win a trip to Los Angeles, California to walk the Red Carpet at the Hollywood premiere of Disney's Big Hero 6. They'll also have the opportunity to go behind-the-scenes at Walt Disney Animation Studios!
The DISNEY BIG HERO 6 – XPRIZE CHALLENGE invites young people between the ages of 8 and 17 to harness their creativity and come up with innovative ideas to tackle the world's biggest challenges using science, technology, engineering, art and/or mathematics.

The six winners, the real-life "Big Hero 6," will travel to Los Angeles to walk the red carpet at the film's Hollywood premiere in early November, go behind the scenes and meet the creative minds at both Walt Disney Animation Studios and Walt Disney Imagineering, join a special "Visioneering™" experience at XPRIZE headquarters, plus other prizes.

The contest is open for submissions from September 17, 2014, to October 12, 2014.

Participating kids will compete in two divisions: Junior Division (8-12 years of age), and Senior Division (13–17 years of age). All entrants must have prior consent from their parent or legal guardian in order to participate in the challenge. Registration details are available at xprizechallenge.org/bighero6.

The video submissions may involve a short story, sculpture, drawing, model, robot or whatever method best communicates the idea in the most creative way (please see Official Rules for further details, restrictions and limitations).

They will be scored on how well they explain the problem, show their solution, and explain what they learned and the impact their idea would have on themselves and the world. The more creative and engaging their presentation is, the better their chance of winning.

Supporting XPRIZE Partners include FIRST (For Inspiration and Recognition of Science and Technology), littleBits Electronics and the United States Patent and Trademark Office.

Video Submissions will be judged on innovation, creativity and presentation. Twenty (20) finalists will be selected based on the highest scores resulting from preliminary scoring by XPRIZE judges. In mid October, a panel of luminary S.T.E.A.M. expert judges will evaluate the twenty finalists' submissions and six (6) winners will be selected through a combination of the expert judges' scores and public voting results.
Be sure to watch the official Big Hero 6 trailer and read my announcement about the Big Hero 6 voice cast!
Big Hero 6 opens in theaters on November 7, 2014! Stay updated with all the Big Hero 6 news: 
LIKE Big Hero 6 on Facebook
Follow @DisneyAnimation on Twitter
Visit the Big Hero 6 website
With all the heart and humor audiences expect from Walt Disney Animation Studios, Big Hero 6 is an action-packed comedy-adventure about robotics prodigy Hiro Hamada, who learns to harness his genius—thanks to his brilliant brother Tadashi and their like-minded friends: adrenaline junkie Go Go Tamago, neatnik Wasabi, chemistry whiz Honey Lemon and fanboy Fred. 

When a devastating turn of events catapults them into the midst of a dangerous plot unfolding in the streets of San Fransokyo, Hiro turns to his closest companion—a robot named Baymax—and transforms the group into a band of high-tech heroes determined to solve the mystery. 

Inspired by the Marvel comics of the same name, and featuring comic-book style action, "Big Hero 6" is directed by Don Hall (Winnie the Pooh) and Chris Williams (Bolt), and produced by Roy Conli (Tangled).

The film hits theaters in 3D on November 7, 2014.