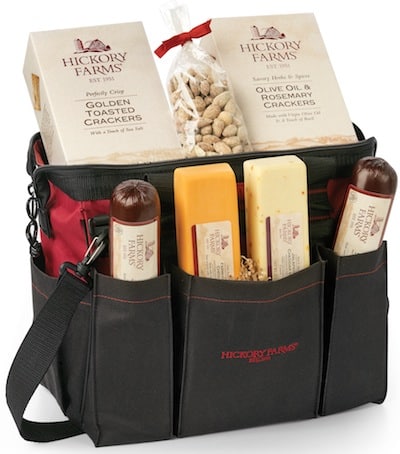 For as long as I can remember, Hickory Farms has been a part of my own family's holiday celebrations.
When I was a little girl, a great aunt and uncle would always give our family a delicious Hickory Farms set for a holiday gift. I remember being amazed at how all the products were perfectly arranged so we could see them through the sealed package. It made it all the more exciting when it was finally time to open the gift and start sampling the contents!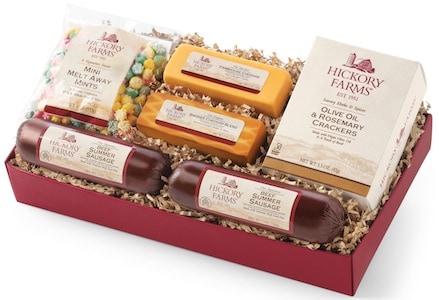 As my sister and I grew older, we both started working at different stores in our local mall. One year, my sister started working at the Hickory Farms kiosk in the middle of the mall. She started at the very beginning of the season, and it was so fun to visit her. She'd provide me with close to a meal of delicious cheese ball samples with crackers and mint meltaways! Over the next few years she continued to work for Hickory Farms on a seasonal schedule, starting with the setup of the kiosk all the way through to the days following Christmas, where everything would eventually be marked down to 75% off and the line for discounted merchandise would stretch around and around their little store.
Hickory Farms has been a part of our family holidays in one form or another over the years. The sight of an almond-coated cheese ball makes me hungry and nostalgic! It doesn't surprise me to know that Hickory Farms has been committed to service and quality for over 60 years.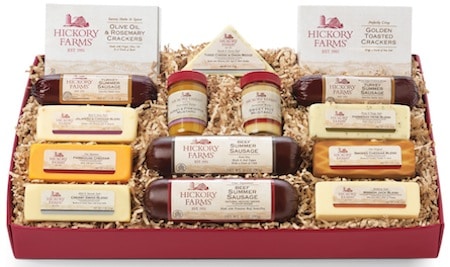 Like me, many other Americans have distinct memories of Hickory Farms at their own holiday gatherings. The brand is very proud to play a part in these moments, and Hickory Farms continues to celebrate its long history of tradition and authentic holiday memories.
There was a stretch of time where I was quite a regular at the Hickory Farms kiosk in my hometown's mall.  There are 700 Hickory Farms holiday stores and kiosks across North America and the brand is also available in select retailers.
You can also view all the merchandise and delicious selections at HickoryFarms.com. I'm a big fan of the looks of the gourmet gift baskets and the chocolate gift baskets!
Is Hickory Farms a part of your holiday memories? I'd love to hear about them in the comments below!
Compensation and products for review were provided by Hickory Farms via MomTrends. I received a free sample of the product for the purpose of this review and to facilitate a giveaway.  The opinions expressed herein are those of the author and are not indicative of the opinions of HickoryFarms.