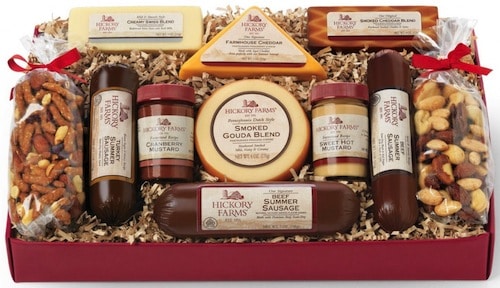 I recently shared how Hickory Farms has been part of my family's traditions for as long as I can remember. That seems like a long time for Hickory Farms to have been around, but they've actually been offering their beautifully-presented specialty foods and gifts for over 60 years!
Hickory Farms sets generally make an appearance around our family at some point Christmas Eve, and I totally agree with the brand when they state that "quality, freshness and value are key traits" of their holiday treats and gifts.

We received a fun gift box from Hickory Farms and brought it along to celebrate Thanksgiving with my in-laws. While I went right for the cheese, almost everyone else jumped right into the Beef Stick. No one was surprised at all when I shared that Hickory Farms Summer Sausage was recently rated the #1 Summer Sausage in America. (and Yes, I did sound like a commercial when I told everyone that!)
I didn't realize that Hickory Farms has a great philanthropic spirit, too! They actively partner with two charitable organizations to benefit large communities in need. Here's what they do:
Hickory Farms has a holiday charitable giving partnership with Share our Strength, which is a leading national nonprofit organization that works to eliminate childhood hunger in America.
For each Party Planner gift box sold this holiday season, Hickory Farms will donate $5 to the Share Our Strength No Kid Hungry Campaign. Since 2008, the brand has donated more than 1.8 million in contributions to Share our Strength!
Hickory Farms also supports the US Armed Forces and is partnering with Operation Gratitude this holiday season to thank those serving in the military across the globe. Further, Hickory Farms offers free shipping on select products to military addresses all year long!
You can view all the merchandise and delicious selections at HickoryFarms.com. I'm a big fan of the of the gourmet gift baskets and the chocolate gift baskets!
Is Hickory Farms a part of your holiday memories? I'd love to hear about them in the comments below!
Compensation and products for review were provided by Hickory Farms via MomTrends. I received a free sample of the product for the purpose of this review and to facilitate a giveaway.  The opinions expressed herein are those of the author and are not indicative of the opinions of HickoryFarms.