I really, really want to have nice photos of our family taken during the holiday season this year! Both of our kids are at least a little bit "poseable" and we definitely should have at least one family portrait taken when Haiden and Piper are little.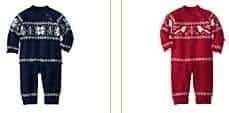 Outfitting the family for a photo session is a different story. I want to find coordinating or matching outfits for a baby girl and a toddler boy. That's not easy! I just stumbled across the Holiday Dress & Sweater Sale at Hanna Andersson and I think I might find something that works for both Haiden and Piper there! While I absolutely love the Sweden Calling Sweater Sets in Navy and Rio Red, I'm not sure my husband will go for putting Haiden in "sweater pants". Plus those outfits aren't actually on sale…oops!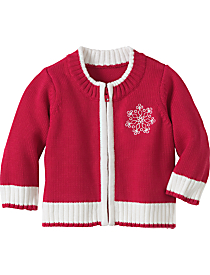 Instead, I'm thinking I might dress Piper in this Little Red Cardigan. It's on sale for $30, it's a gorgeous red that will really look fabulous in photos and cardigans are something that we can actually get some mileage out of in Minnesota!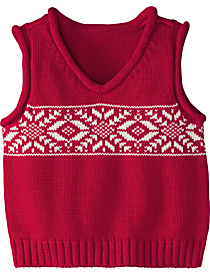 I can put Haiden in this sweet Nordic Vest. It's on sale for $25 (from $32) and it will coordinate well with Piper's sweater. I also love the idea of putting them in red clothes and having James and I wear something more neutral. The photos are all about the little ones, of course!
(Even if our portrait session doesn't go smashingly well (read: crying, screaming, vomiting, etc.) it will make for fun future stories, right?)