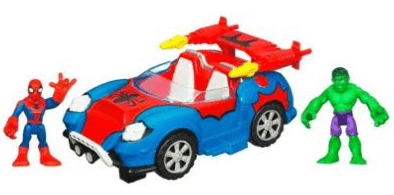 Preschoolers can save the day in style by jumping aboard the Blackbird jet with Wolverine & Iron Man or hitching a ride with Spidey & Hulk in a hovercar!

Up to two Super Hero Adventure figures can fit into the seats of the Marvel Super Hero Adventures Crive Cruising Car and complete bold rescues with the help of each vehicle's launching projectiles. Assortment includes Blackbird "flying" vehicle with Wolverine & Iron Man figures and Super Hero Hovercar vehicle with Spider-Man and Hulk figures; each sold separately.
The Marvel Super Hero Adventures Crime-Cruising car with Spiderman and Hulk is available at Walmart online for $15 with $0.97 shipping. It's also available from Amazon for $19.99!

The 2011 Baby GoodBuys Holiday Gift Guide may contain advertising information provided by the manufacturer or PR representative. I've chosen to feature all the items, but they should not be considered a review or endorsement unless otherwise stated. –Marybeth