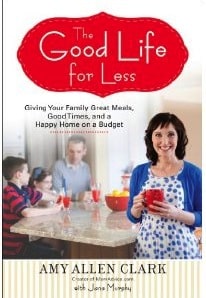 The Good Life for Less: Giving Your Family Great Meals, Good Times and a Happy Home on a Budget by Amy Allen Clark will be released on January 2nd, 2013. You can pre-order a gift copy in paperback or for the Kindle today, and tuck a note in a card sharing that the book will be delivered on its release date!
The Good Life for Less will give you the information, tools, and inspiration to maximize every cent of the family paycheck.

By living leaner, you and your family will gain financial stability, and as Amy writes, "living frugally has made me so much more aware of our family's every blessing, great and small. It's a richness that money can't buy."

Empowering your family with the knowledge to make the best financial decisions will only bring you closer together, and give you even more enjoyment out of the time you spend together.
The Good Life for Less has an MSRP of $15, but right now it's available for purchase from Amazon.com for just $10.20! That even includes a guarantee that if the price drops between your order date and the release date Amazon will only charge you the lowest selling price!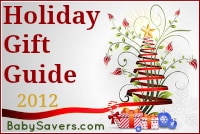 The 2012 BabySavers.com Holiday Gift Guide may contain advertising or promotional information provided by the manufacturer or PR representative.
The gift guide is intended as a shopping guide for the holiday season, and this post should not be considered a product review or endorsement unless otherwise stated. As always, feel free to contact me if you have any questions.–Marybeth