Wahl's new All-Natural Pet Shampoos and Deluxe Pro Series Pet Clipper make great gifts for pet owners looking for a healthier way to 'shave' costs on pet grooming. The shampoos are made with 100-percent plant-derived ingredients and free of harsh chemicals while the Pro Series Pet Clipper is bred for convenience with a new cordless and contoured design.
The Pro Series Pet Clipper can be bought at Target for $69.99. All-natural Pet Shampoos has an MSRP at $6.99.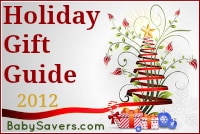 The 2012 BabySavers.com Holiday Gift Guide may contain advertising or promotional information provided by the manufacturer or PR representative.
The gift guide is intended as a shopping guide for the holiday season, and this post should not be considered a product review or endorsement unless otherwise stated. As always, feel free to contact me if you have any questions.–Marybeth