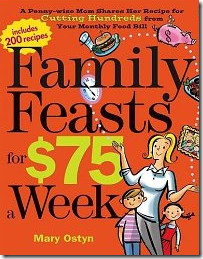 Whether you 're overhauling your entire budget or just trying to save a little here and there, making a dent in your grocery bill may seem challenging in today 's market. A typical supermarket trip can easily cost a minimum of $100, and if you 're feeding an average family or larger, that number can soar even higher. What 's a mom on a budget to do?

Family Feasts for $75 a Week to the rescue! Written by blogger mom and penny-pincher extraordinaire Mary Ostyn, who prepares three meals a day for her family of 12 for $800 to $900 a month, this book is stuffed to the gills with Mary's expert, in-the-trenches tips on savvy food shopping, plus 200 delicious recipes for homecooked meals that make the most of economical ingredients.
Selected by Good Morning America as one of the best cookbooks of 2009, Family Feasts for $75 a Week offers real-world advice teaches real-world families how to save in more ways than one.
Price: List price is $17.95. Can be found up to 40% off on Amazon.

The 2010 Baby GoodBuys Holiday Gift Guide may contain advertising information provided by the manufacturer or PR representative. I've chosen to feature all the items, but they should not be considered a review or endorsement unless otherwise stated. –Marybeth