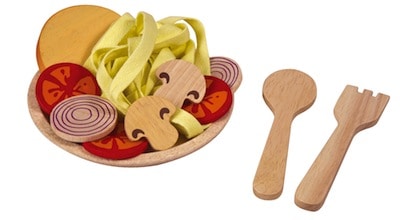 The Plan Toys Spaghetti Play Set, which includes garlic bread, mushrooms, onions, tomatoes and noodles, allows children to become familiar with these ingredients and be able to recognize them in meals made by their parents.
Now children can incorporate these healthy and hearty ingredients into their playtime in order to develop a familiarity with these everyday ingredients.
The Plan Toys Spaghetti Play Set is intended for ages 3 and older. It retails for $14.99 at Amazon.com.

The 2011 Baby GoodBuys Holiday Gift Guide may contain advertising information provided by the manufacturer or PR representative. I've chosen to feature all the items, but they should not be considered a review or endorsement unless otherwise stated. –Marybeth