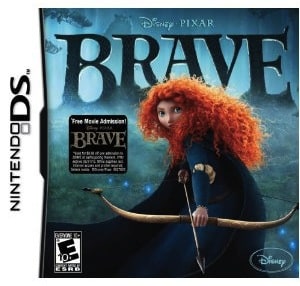 There's a super-hot offer when you pre-order the Disney/Pixar BRAVE video game for the DS, Wii, XBox or PC:
Order the game for as low as $29.96 and you'll get both a FREE $20 Amazon credit to use on a future purchase AN a FREE $8 movie admission to see Brave at the movie theater!
Shipping is free for this game on any platform but the price varies between platforms.
When you account for the special offers it's like paying only $1.96 for the game after credits and movie ticket if you buy the lowest-priced game!
Order the BRAVE video game here!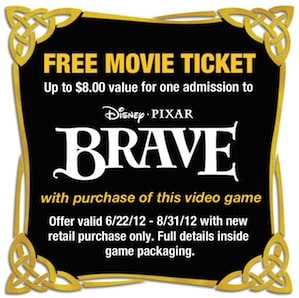 Here's the fine print for the offer:
Order Brave: The Video Game and get a free $8.00 movie admission to Brave. Full details will be included in the shipment. Also, when you pre-order, receive a $20 promotional credit toward the purchase of items shipped and sold by Amazon.com (certain exclusions apply, including Kindle books, MP3s, and video rentals and downloads). We will send you a promotional code via email within two days after your order ships. This offer will be extended to all existing pre-orders. Limit one per household. Both offers valid when shipped and sold by Amazon.com. Amazon reserves the right to change or terminate these promotions at any time.
Thanks, Thrifty Jinxy!