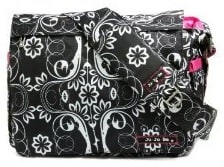 Ju Ju Be diaper bags have kind of a cult following. I've met a few moms who are crazy about their Ju Ju Be's, and they look forward to talking with their other friends about the diaper bags they have and want!
I admit, I was a bit taken aback when I saw this price: $52.99 for a Ju Ju Be Be All diaper bag plus just $3.99 for shipping? It's not everyday that we see 62% off this brand. Even with the shipping included it's 59% off the list price!
The only style selling for $52.99 is the Shadow Waltz, which is a very nice print. If you've been looking for a Ju Ju Be, I'd jump on this while it's for sale at this price!