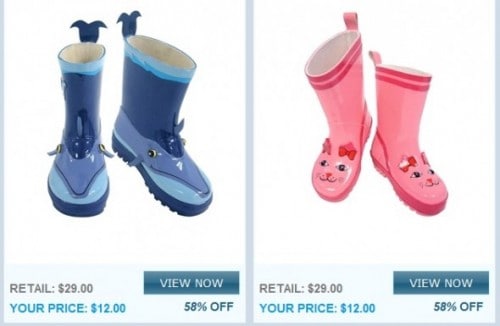 Modnique is another deal-a-day site, and they're featuring a great deal on the popular Kidorable rain boots (Suri Cruise has a pair :)). I don't know about you, but this is perfect timing! It's been raining all over Minnesota for the past few days and I'd love to put my kids in rain boots!
While there are lots of spendy items on Modnique, first time members instantly receive a FREE $5 credit when signing up through this link. Plus you can use Modnique.com coupon code STAR to take an extra $10 off your purchase! Even if you don't want the rain boots you should be able to score some pretty fantastic deals when you can instantly take $15 off your order!
Here are the Kidorable rain boot deal details:
Sign up for Modnique and get $5 instantly credited to your account.
Click on Visit all Sale Events to see what's being featured today.
Scroll down the page until you see the Kidorable Event (Save Up to 60%!)
The Kidorable rain boots are priced starting at just $12. Add a pair to your cart.
Go to Checkout and select the Credit Card payment method
Enter coupon code STAR to take $10 off your order.
Enter $5 in the credit box to apply your store credit to the order.
Final price: just $4.95!
If you're not interested in the rain boots there are lots of other items priced under $20, meaning you could snag some fabulous deals (this could be a great time to start Christmas shopping!).
Note: The coupon code won't work towards your shipping charges but your store credit will.