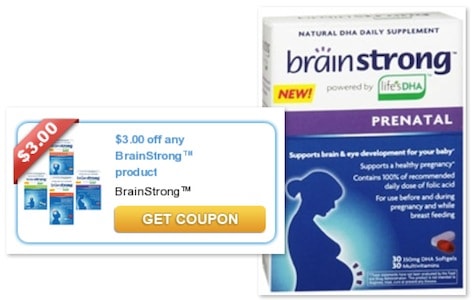 Starting the week of 12/30 you'll be able to make $3 on prenatal vitamins at Walgreens!
If you've been visiting BabySavers.com for any length of time, you probably know that I only like the simplest of coupon scenarios.
Personally, I don't have the organizational skills or patience to clip coupons and hold onto them in a way that doesn't end up with them scattered throughout my house! That's why you'll usually only see coupon matchups done with printable coupons on this site.
I wanted to give you an extra-long lead time on this Walgreens deal because the printable coupon might not be available by the time the sale rolls around. If you like the deal, print the coupon today and hold onto it until 12/30.
Here's the prenatal vitamin deal:
::  Buy 1 box of BrainStrong Prenatal Multivitamins and DHA Supplements: $10
::  Use 1 $3 off 1 Brainstrong product printable coupon
::  Receive $10 in Rewards at checkout
Final price: -$3 after coupons and reward!
That means you're going to pay $7 out of pocket when you do the transaction, but you're receiving $10 in rewards. It's like getting the vitamins for FREE and getting $3 FREE, too!