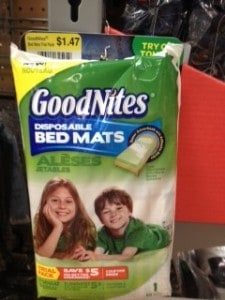 If you want to get in on this great opportunity to get FREE Huggies GoodNites Bed Mats and MAKE a little money, too, be sure to print out this $2 off Huggies Bed Mats printable coupon!
Note: Even if you don't think you'll ever need these bed mats for your own home, this is a great product to get for free and donate. I'll be picking some up and bringing them to a nearby women's shelter. If they can't be used at the facility I know they'll be passed along to someone who needs them. 
According to I Heart the Mart, the small packs of GoodNites disposable bed mats can be found on hang tags around the baby department. They're just $1.47, so you'll make money if you use the $2 coupon! Be sure you buy something else to apply the "overage" to–the store won't actually pay you money from the cashier's drawer 🙂
Here's how to get the deal:
:: Buy 1 trial pack of Huggies Good Nites disposable bed mats ::  $1.47
:: Use 1 $2 off 1 package of GoodNites Bed Mats
Final total: Make $0.53 AND get free Good Nites bed mats!
You should be able to print two of these coupons. Print the first coupon then click the coupon link again to select it for a second printing!
Visit my printable coupon page to find more of the latest and greatest coupons!
Thanks, I Heart the Mart!