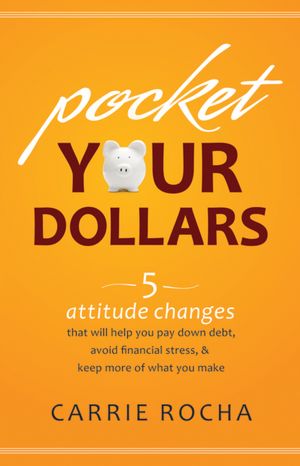 My blogging friend, Carrie Rocha from the super-popular Pocket Your Dollars website, wrote a book and it's a great deal!
This price is the best price we'll see for this book, or its Kindle or other ebook versions, for months. If you want to buy this for yourself or as a gift, now is the time to do it!
The book is called Pocket Your Dollars: 5 Attitude Changes That Will Help You Pay Down Debt, Avoid Financial Stress, & Keep More of What You Make. It's a great angle for a personal finance book in that it doesn't start with the budget worksheet, but with your attitudes about money. Here's how Barnes & Noble summarizes the book:
Carrie Rocha, founder and owner of Pocket Your Dollars.com shares the secrets that will help you change the way you think about money. Seven years ago, she and her husband were surprised to discover the mountain of debt they'd accumulated. They knew they'd have to make big changes. Thirty months later they were debt free and have stayed that way ever since.

How did they do it? It wasn't through a step-by-step financial program or spending plan. It turns out, budgets can't fix everything—real change takes an attitude adjustment.