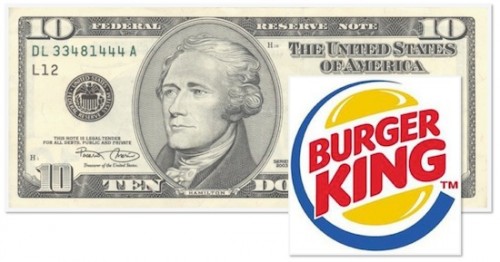 Wow! I've written about Plink in the past–it's super-easy to sign up and get paid to eat and shop at lots of popular stores, but now is the best time to take advantage of it!
Sign up for Plink now and you'll be able to score a FREE $10 gift card when you spend $10 at Burger King. That's like getting $10 in FREE Burger King food!
Here's how to get in on this great offer:
Sign up for Plink before March 17th, 2013
Make a $10 purchase at any Burger King before the end of the day on March 17
Plink will add 1000 Plink Rewards to your account.
Redeem your 1000 Plink Rewards for a FREE $10 gift card to Amazon, Target, Walmart, Kohls, Starbucks or many other stores!
You'll need to register the credit or debit card you use to pay at restaurants and stores but only so the Plink service can calculate how many reward points to add to your account.
The Plink system uses bank-level encryption to secure all data. The system only uses read-only, limited access to scan the transaction information, track purchases and reward you when you make a qualified transaction.
I know that my credit card and customer cards are tracking my spending with the intentions to get me to spend more for various purposes. Why not willingly provide your information and earn something for it AND get a free $10 gift card?