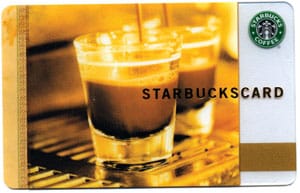 For a very limited time, you can head to Groupon and get a $10 Starbucks eGift card for just $5! There's no catch–you can buy it today and you have until September to activate it and claim the full value.
This is an actual Starbucks eGift Card, which can be printed out and tucked in a card. It won't show that you bought it at a discount and you can even bring it to a store and exchange it for a real plastic gift card!
If you're buying this gift card for yourself (I already bought mine :)), you can easily transfer the gift card to your own Starbucks account so you can use it towards your Starbucks Rewards.
Here's how to get in on the deal:
1.  Sign up for Groupon if you've not already signed up (I've been "enrolled" since 2009 and I've never received any spam, just my local daily deals).

2.  Once you're signed up, click on this page to see the deal:  Starbucks gift card deal

3.  Click the big green BUY button

4.  Proceed to checkout and complete your order.

5.  Most vouchers show up in your account within minutes, but it may take up to 24 hours for your voucher to be ready to use.

6. Open your voucher and go to https://groupon.starbucks.com

7. Enter your voucher's unique code and you'll instantly get your Starbucks gift card!