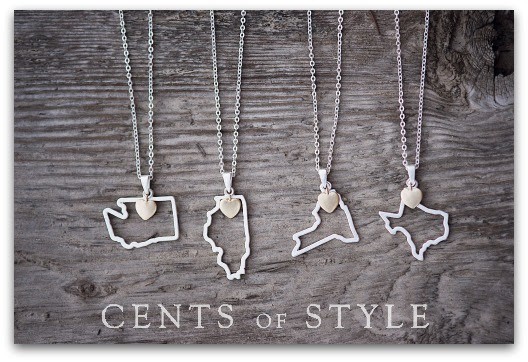 One of my friends was recently sporting a Minnesota necklace and I immediately asked her where she got it. I knew it would be the perfect gift for more than one person I knew!
Once I started looking for a Minnesota necklace I realized that there were necklaces for every state in the country, but most are expensive!
Right now, you can get a State Pendant Necklace in any state you want for just $11.95 with FREE shipping from Cents of Style when you use promo code HOME. UPDATE: This offer is only valid through Sunday, December 8, 2013, so buy yours while your state is still in stock and while the deal is valid.
Here's how to get your State Pendant Necklace for just $11.95 with FREE shipping:
Visit the State Pendant Necklaces product page at CentsofStyle.com
Select the state you'd like to buy and add the necklace to your cart.
Proceed to checkout and enter your shipping details.
Use Cents of Style promo code HOME to save over 50% and get free shipping.
Finalize checkout.
Your total cost for one necklace will be just $11.95 with FREE shipping!