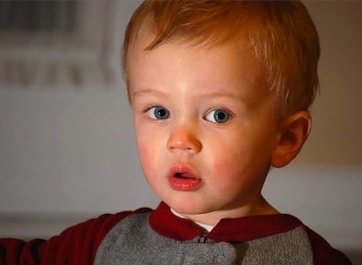 When I was pregnant with Haiden, our first baby, my husband and I immediately agreed that we would discuss baby names with no one but each other. I know my sometimes-defensive personality would be extra-emotional given the topic and the crazy hormones, and I didn't to hear any other opinions or attempts to change our minds once we decided.
While I quickly learned that people can't help but share opinions and experiences with a pregnant mama, I also learned that 99% of those voices wanted to share positive, uplifting, supportive or just funny details to help get through those nine months. I didn't, however, waver in our decision to keep our baby name discussions private.
Part of the reason they were not to be discussed was because we were close to a blank page when it came to the "perfect" name for the baby boy growing inside me. My husband was strongly pushing for Cooper, but it just didn't feel right to me.
As my belly grew, our list of potential names was painfully short. We didn't have a first name or a middle name! A coworker confessed that, although, her youngest child was nine and she had no plans to have more children, she read baby name books for enjoyment and kept one on her nightstand to read before bed every night. That book was in my hands the day after she told me about it, and James and I started reading it together for a few minutes before our own bedtimes in the evening.
Still, we couldn't settle on any part of baby's name. When I was seven months pregnant, my husband and I went to dinner to satisfy my craving for those delicious biscuits. We ate our meal and our server boxed up my leftovers in a styrofoam takeout box.
Our conversation turned back to names. My husband suggested Hayden. I wrote it down on a scrap of paper. I rewrote it with a different spelling. It looked good.
I searched for a bigger piece of paper in my purse but came up empty. There wasn't a clean napkin left after our meal. I put my pen to the takeout box and wrote out HAIDEN in big letters, carving it into the foam. James looked at it and smiled.
He said, "How about Haiden Cooper?" I added Cooper to the name on the box. It still looked right. After I stared at my penmanship for a few seconds, I slowly wrote Hamilton on the box. "Haiden Cooper Hamilton." I told my husband.
He looked at the Red Lobster box with our son's name etched on the top with a huge smile on his face. There was no question that we had a name for our baby.
While we remained close-mouthed on our baby's name until his birth, we also vowed to keep our girl name a secret since we knew we were going to have another baby as soon as we possibly could. That name remained close to our hearts in case a baby girl was in our future.
A few weeks before my maternity leave started, I met up with a coworker at our corporate headquarters to get details worked out for a project we were collaborating on. The coworker was also one of my very best friends from college, so we started talking about baby names after our work was done. She completely understood that I wasn't sharing our baby's name, but I told her it was funny that our chosen girl name was set right away, while it took months to decide on a boy's name that we actually needed.
I didn't tell her we were planning a second baby while the first was still in utero, and she innocently asked, "What was the girl's name?" Not wanting to get weird about it, and feeling exhausted from keeping silly secrets, I whispered, "Piper." Her eyes lit up. She said, "I love that name!" I told her that it was still a secret since we planned on it for a future baby if it worked out. Then we stopped talking about it and moved on to other things.
Just over 12 months later, my second baby was born. Her name? Piper.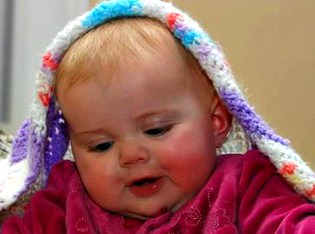 As for my friend? After Piper was born, she didn't even remember our conversation and only and told me (for the second time) how much she loved the name!
It wasn't easy, but that is how I decided on my baby's name. How did you decide on your baby's name? Or do you have a great story on how your parents decided on your name? Tell me for a chance to win a year's supply of cards from Cardstore.com!
In celebration of the 8 women who are pregnant, Cardstore.com has expanded their offering of birth announcements!
This is a sponsored conversation written by me on behalf of Cardstore. The opinions and text are all mine. Official Sweepstakes Rules.