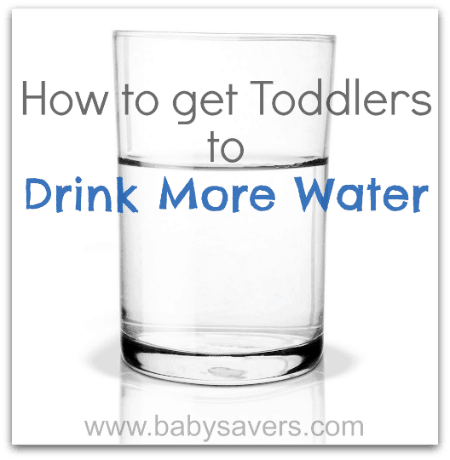 Do you know that only 15% of school-age kids drink the recommended amount of water? My kids were right on track to being part of that 85% until just a few months ago.
I get that toddlers will hardly be interested in drinking water when they learn how delicious juice and milk can be. The problem is that, once juice becomes a regular part of a little one's diet, it's hard to sub in water without causing a tiny mutiny.
I can't believe I've been doing it for so long, but for the past few years, I've been dutifully diluting any and all juice or sugary beverages that I serve to my kids, rather than fight with them and try to make them stay hydrated with plain water. If I make frozen juice, I'll fill my 2 quart pitcher all the way to the top with water instead of only adding the 30 ounces as directed on the can. Even then, every cup of juice I poured would also be at least another 25% water.
I'm so happy that my creative husband seems to have turned things around for getting my little ones more enthusiastic about drinking water. I love that it wasn't even an intentional strategy on his part. He just tried a few things and ended up with two little kids who wanted to drink water! Here are two things he did:
He made water look fun :: James found some of those loopy plastic straws in a drawer. One night, he was giving two fussy kids dinner so he tried to mix things up by offering water with a "curly straw." Their response was WAY more favorable than he had anticipated, and they both drank down their glasses of water in record time!
He made water a "big boy" drink :: My husband also started giving Haiden an full (non-breakable) glass of water with ice. I know I need ice in my water when I'm drinking it, and my husband is an ice water fanatic. Apparently, we've been setting a good example because our son wants to drink his water just like we do!
After they were more interested in water, I also gave Piper a brand new sippy cup just for water. It's bright pink, fun and decorated with animals. She loves it! Piper knows that it's her water cup, but it doesn't stop her from asking for it when she's drinking something else. She gets the cup, filled with water, and she drinks both beverages!
My sister also suggested having an extra-fancy tea party and serving water in heavy water goblets or cheap plastic stemware. She shared that her younger kids have always loved drinking water from special drinkware!
I had a request to make a video of my kiddos asking them some questions about water and sharing some fun facts with them. They weren't all that cooperative but it's a little bit funny and a few things I told them are really interesting! You'll also hear my tips for getting little ones to drink more water at the end. Just click the play button above to take a look!
Those are the ways I've helped my kids discover the wonders of water. Brita's new product, the Brita Bottle for Kids, now provides an easy and fun way to have clean, filtered H2O on the go.
Now I'm curious, how do you encourage your kids to drink more water? Reply below and one of my readers will win a $50 Visa gift card!
This is a sponsored conversation written by me on behalf of Brita. The opinions and text are all mine. Official Sweepstakes Rules.