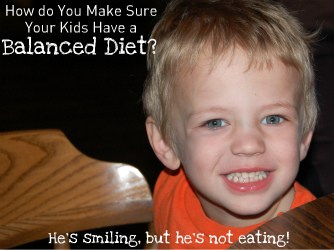 Picky eaters. I admit it, I'm picky. I think I acquired the trait from, oh, most of the women in my family. We go out to dinner and my husband just shakes his head at all the requests: No pickles! Salad dressing on the side! I wanted this with no mushrooms! Extra tomatoes! 
Yet I somehow deluded myself into thinking that I would be able to raise children who would eat anything. I even bought into that myth that if you only feed babies vegetable baby food, they'll acquire a better taste for healthier food. Yep. I was that mom who refused to feed her first child a bite of fruit until he was about 9 months old. 
Let me tell you, sticking strictly to vegetables did nothing to develop my son's palette. It obviously started off pretty well (because I was totally in control!), but as he became more vocal and independent, the more he resisted eating foods that weren't exactly what he wanted. In a show of solidarity, my daughter reacted exactly the same way, which often made dinnertime a battle instead of a place where everyone left warm, full and happy. 
I'm not into forcing kids to eat what they don't want to eat, but I'm also not about to indulge them and only serve exactly what they like. Because of that mildly conflicting philosophy I finally came up with a few reasonable guidelines to keep our household diet in check: 
1. I don't buy food I don't want my kids to eat :: If we don't have "bad" food in our house, there's far fewer opportunities for my kids to eat it.
2. I do buy the healthy foods my kids like :: It may not do a lot to help those picky palettes, but making sure we have apples, oranges, grapes, carrots and corn in the house means that I can be assured that both my little ones will have fruits and vegetables that make them happy.
3. I don't use snack time as treat time :: Snacks are my key to working in healthy foods throughout the day. Plenty of lean proteins and bite-size fruit and vegetable pieces make snack time fun without being full of junk food. 
With those three rules, I've definitely made dinnertime less of a standoff and more of a pleasant time with my kiddos!  
When I need a quick and easy meal for the kiddos, I love having the option to give them chicken nuggets thanks to Tyson's 100% All Natural Chicken Nuggets. Right now, you can upload a photo of your child enjoying Tyson chicken nuggets with a catchy caption in the Get A Smile Give A Smile Contest and you will be entered to win a special feature on a billboard in Times Square, plus a feature in Parents Magazine and People Magazine!
I'm curious, how do you ensure your child maintains a balanced diet? Join the conversation and share your ideas below.
Tyson will select a winner from those who participate in the conversation and donate $500 worth of food in the winner's name to a local food bank!
This is a sponsored conversation written by me on behalf of Tyson Nuggets. The opinions and text are all mine. Official Sweepstakes Rules.