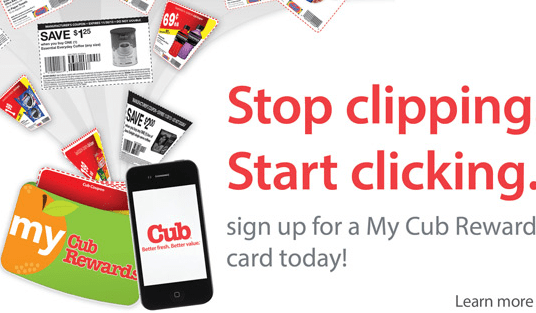 I wrote a few weeks ago about how to load coupons onto a Cub Foods Rewards card, then I wrote about saving an extra $5 just for loading a coupon onto your Cub Rewards card.
I actually haven't shopped since I wrote that last post, and it's definitely time to plan a trip to the grocery store to pick up a lot of essential items that we're running low on.
I know there are grocery coupons for everything out there, but the truth is, it's easy to find coupons for convenience foods and prepackaged meals. It takes a bit more legwork to find coupons to save on produce, wholesome dairy products and other, simpler groceries.
On top of the extra work it takes to find the coupons for fruits, vegetables and dairy products, the art of organizing and clipping coupons overwhelms me. I know from experience that I ended up clipping far more coupons than I actually used, and organizing all of them was beyond my capabilities.
Thankfully, our grocery list this time around is fairly simple: fresh fruits and vegetables, milk, cheese, yogurt, meat, bread and possibly a few snacks. When I visited the Cub Foods Rewards site to see what kind of money I could save I wasn't expecting to find much. After all, I wasn't buying cereal or frozen foods (there are lots of coupons for those items, by the way!).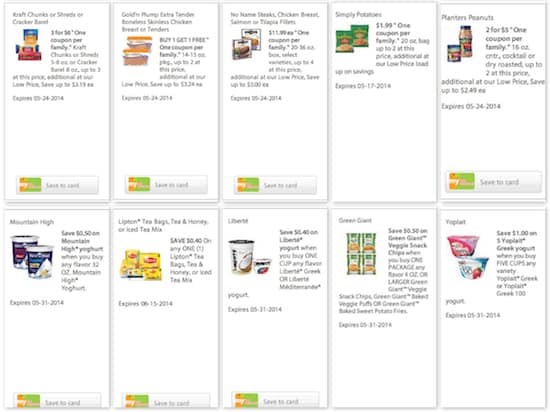 I was surprised and excited to find a nice variety of coupons I could load directly to my Cub Rewards card to instantly save money at checkout! Here's what I loaded onto my card: 
Buy 1 get 1 free Gold'N Plump Extra Tender Boneless Skinless Chicken Breasts or Tenders
1 20 ounce bag of Simply Potatoes for $1.99
Save $0.50 on Green Giant Veggie Snack Chips
Save $1 on 5 Yoplait  Greek Yogurt cups
Save $0.50 on Mountain High yoghurt
Get 3 packages of Kraft cheese for $6
2 packages of Planter's peanuts for $5
Save $0.40 on one package of Lipton Tea Bags
1 20-36 ounce box of No Name Steaks, Chicken breasts, salmon or tilapia for $11.99
I haven't decided if I'm going to use all the coupons yet, but I love that it's super-easy to load the coupons just in case I decide to buy anything there's a coupon for! If you haven't yet experienced the joy of paperless coupons with My Cub Rewards, I promise you, it's easy to do:
You can immediately start loading coupons onto your account, so click Coupons and browse for all the savings you want.
Print out a temporary card and take to your nearest Cub Foods.
Do your grocery shopping and present your temporary My Cub Rewards card to the cashier. All of the coupons you loaded onto your card will be taken off your total bill before you pay.
Your permanent card will arrive in the mail in just a few weeks.
I shared this video in the previous article I did about My Cub Rewards, but it just makes sense to show you again. Cub Foods created a great 3-minute video tutorial that explains exactly how you can save money using your My Cub Rewards card:
If you're in the Minnesota area and you're looking for easy ways to save money on groceries, sign up for My Cub Rewards and start loading coupons onto your card to start saving today!
Disclosure: this post provided by Cub Foods and the accompanying PR firm. All opinions expressed are genuine and 100% my own.