It's easy to feel a lot of social pressure when you're a new mom. There are multiple methods for doing just about any baby-related task, and there are plenty of opinions on each of them!
My grandma and my mom still quibble over the right way to dress a baby. Which goes into the outfit first: the arms or the legs? Honestly, as long as the baby isn't in pain and she ends up dressed why on earth does one of them think their way of snapping baby into a sleeper is better than the other?
I like to think along similar lines when it comes to feeding babies, too. If a mom's baby is well-fed and in good health, we should agree to move on.
Click MORE or just keep reading to enter the $800 giveaway! 
Honestly, feeding both my babies caused me so much stress that I didn't start enjoying the activity and making the most of feeding until they were each a few months old. When babies eat like a eight to twelve times a day, that's a lot of stress and a lot of missed opportunities for baby bonding time!
If you're struggling with feeding your baby right now, I have a few quick tips to help you make the most of feeding time.
How to make the most of feeding time with baby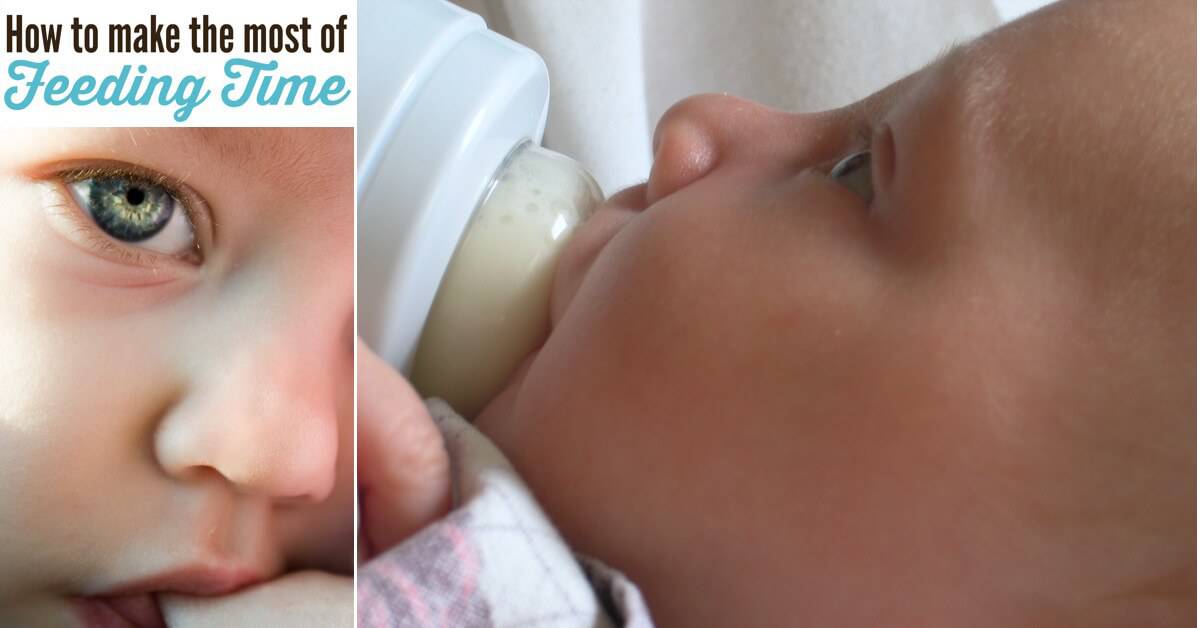 It's a total misconception that bottle-fed babies are missing out on bonding with their moms. Moms have the same opportunity to get close to baby whether the milk is breastfed or from a bottle. Here are some ways to take advantage of those times:
Make strong eye contact: locking eyes with my babies was one of my favorite things about feeding them. Mom is pretty much the most important thing in baby's life right now, but you'll have all her focus if you capture her gaze.
Talk to baby: Or sing, or coo. Just vocalize. Your voice is your baby's favorite sound, and it will make the feeding session even more special for both of you. If you're not sure what to say to your baby, start by quietly narrating what's happening around you. It's a great way to ease into those one-voice conversations!
Switch arms during bottle feeding: Breastfed babies get to swap sides during feedings. Infants that are fed by bottle can get a new perspective and something new to look at if you move her to the other arm.
Turn off the TV and put down your phone: You don't have to follow this suggestion during every feeding, but you're missing out on some perfect and peaceful parent-baby bonding time if you direct most of your attention to your electronic device.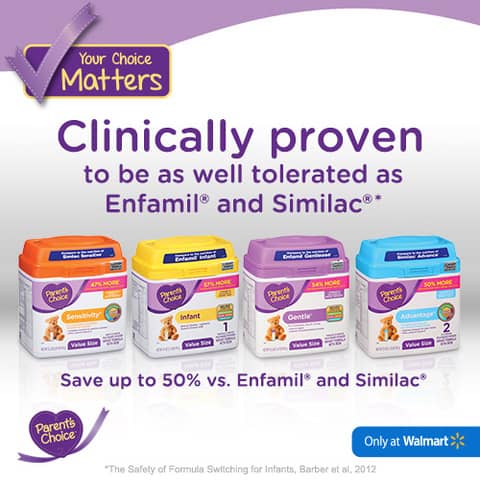 If your baby is bottle fed, now is the time to take a look at Parent's Choice formula, is the store brand of baby formula exclusively found at Walmart.
In addition to saving up to $600 a year on formula by switching to Parent's Choice, there are several other great reasons for choosing this brand for your baby: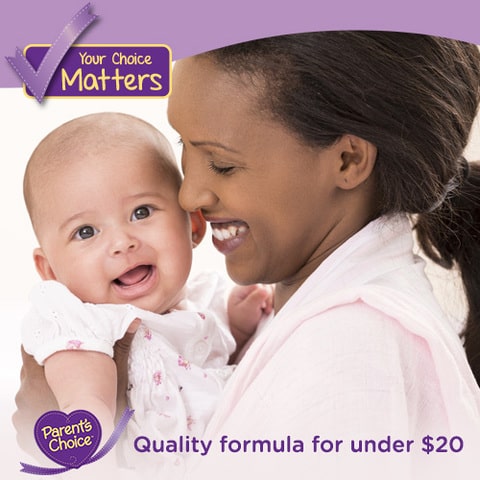 Parent's Choice is nutritionally comparable to the expensive baby formula brands, including Enfamil, Similac and Gerber.
It's FDA compliant and it meets all infant formula nutritional standards and recommendations of the American Academy of Pediatrics.
Parent's Choice is clinically proven to be as well tolerated as national brand formulas.
It's clinically proven to support growth and development.
About Parent's Choice Infant Formula
Parent's Choice baby formula is as nutritious and safe as national brands at an affordable price. The Parent's Choice brand also includes baby and toddler foods, toddler formula for older infants, ready-to-drink pediatric nutritional beverages, pediatric electrolyte rehydration solution and powder sticks.
Enter the Giveaway
Now you have the chance to win your share of $800 in prizes from Parent's Choice, including one of 5 $100 Walmart gift cards!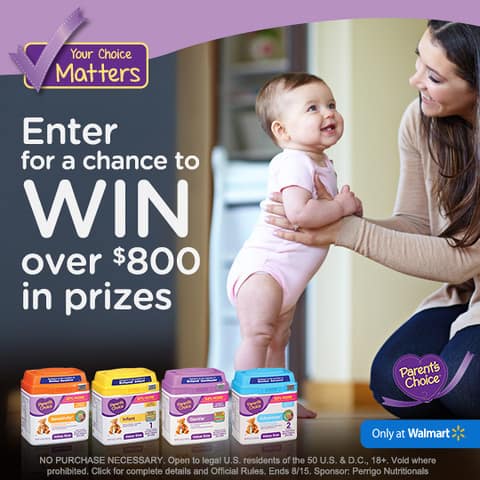 Just enter your details in the form below, and visit Parent's Choice for more information on their brand!
The Parent's Choice Formula Feeding Time Summer Sweepstakes

Disclosure: This post provided by Parent's Choice and/or the associated PR company. All opinions are my own.