This post was produced with support from FutureAdvisor.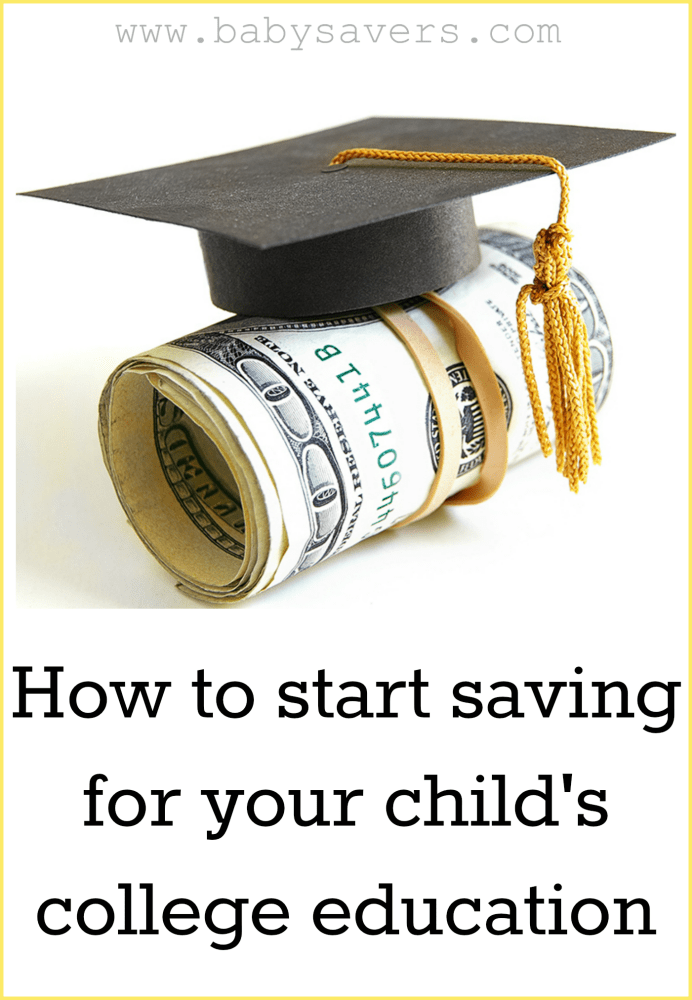 My kids are little, but this time of year, with all the last day of school and graduation news, my inner planner gets a little panicky.
Graduation time is near for many across the nation. While it's a time for celebrating accomplishments and reflecting on milestones, it can often place a financial worry on both the parents and the students.
Parents of students–especially high school students–may find themselves worrying about how they are going to afford the next 2, 4, or more years of college. Students graduating from an institution of higher learning are likely feeling the pressure to find a high paying job to start paying back their student loans.
In 2014, the average college student graduated with $33,000 in student loans. That's more than three times the average debt of a college student 20 years ago.
If the cost of higher education continues to grow that this rate, children who are born now could likely face $66,000 or more in debt by the time they graduate college.
Most people have trouble saving and investing for their own futures, let alone for their children's education. 57% of current employees have saved less than $25,000 for their retirement. 28% have saved under $1,000.
Inability to budget and plan, combined with acquired student loans, leave many families in a financial crisis. Parents are finding themselves unable to help their children. Children are finding it difficult to have a great quality of life and grow their own families due to the pressure of student loans.
When thinking about all of these harsh facts that are facing our children, the only logical solution is that there HAS to be a change. It isn't likely that the cost of education will go down anytime soon, so we all have to learn to start preparing financially for college.
The good news is that you don't have to figure it out on your own, and contrary to what some commercials might lead you to believe, you DON'T have to pay for help. FutureAdvisor has a FREE solution with their brand new new program, Diplomas without Debt.
When planning for education, there are several different kinds of college savings accounts to choose from (529s, Coverdells, UTMAs and more). FutureAdvisor will help you identify the best accounts for your goals, and you're only financially responsible for are the underlying fees.
FutureAdvisor's Diplomas without Debt program helps you figure out how much you'll need to save for each of your children. They work with you to discover the perfect blend of investment accounts to help minimize your tax liability. They even take care of opening the accounts and managing those accounts for you. For free!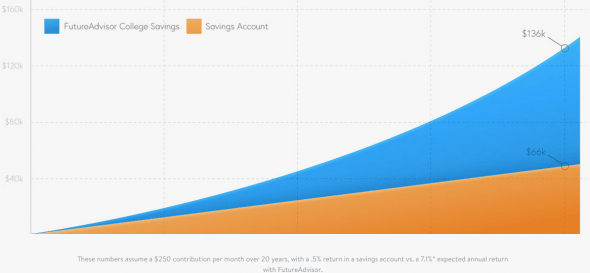 Check out the FutureAdvisor Difference:
If you invest $250 a month in a savings account with a .5% return for 20 years, you'll save around $66,000 for your child's college fund.
If you invest $250 a month with FutureAdvisor with an expected annual return of 7.1%, you'll save $136,000 for your child's college fund.
This is a HUGE difference, but the investment costs you exactly the same. This seems like a no brainer! You can sign up for free today and start saving immediately.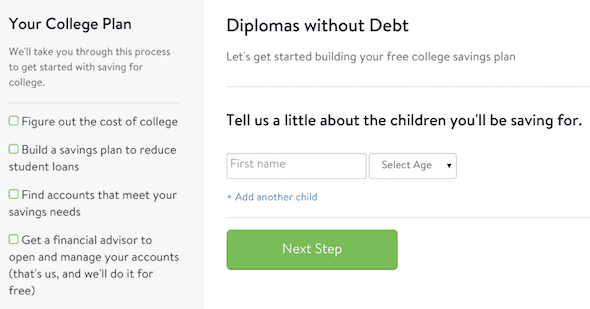 FutureAdvisor believes that every child deserves a shot at higher education without being financially crippled for it, and we agree.
If you feel the same way, sign up for FutureAdvisor for free and take the first step in planning for your child's future education today.