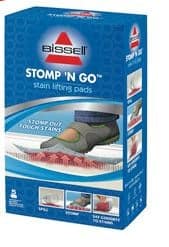 I live with two messy toddlers, two cats who are prone to vomiting and one sweet shelter dog who doesn't always like to go outside to relieve herself. Throw in my undeniable clumsiness and I'm pretty sure we have more spills and messes on carpets than the average family.
After getting my carpet professionally cleaned last spring, I learned a few things about how to treat carpet stains:
Don't use sudsy cleansers on carpet. It will take an insane amount of rinses to get all the soapy residue out.
Don't soak any stain with carpet cleaner. Repeated light applications are more effective than one heavy one.
Blot, don't rub or scrub, any stain.
If you use a carpet-stain-remover treatment, follow it by saturating the area with boiling hot water and sucking it up with a shop-vac. This mimics the process used by professional carpet cleaners.
Great advice, right? But, let's face it. I'm a busy mom and "repeated light applications" for cleaning anything isn't always going to work for me, and some offenders, like pet stains, need to be treated right away.
My friends at Mom Central sent me a few packs of the new Bissell Stomp & Go stain lifting pads to try out. As someone who has more than a few permanant stains on her carpet, I was a bit skeptical of the package's statement that the pad "permanently removes tough stains."
I know tough stains, and I had the perfect one in mind to test the stain on: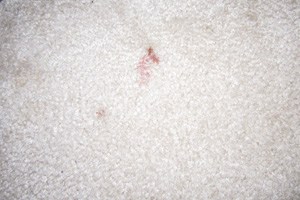 This is a small, dry spot of cranberry juice that was caused from an abandoned, leaky sippy cup. The stain was about 2 weeks old when I tried to treat it with the stain lifting pad:
The absolute best thing about the Bissell Stomp & Go stain lifting pads is their ease of use and convenience. Most of the time, I spray a stain with a stain remover in a squirt bottle. Then I wait 5 minutes and come back with my damp cloth to blot the stain and see if the process needs to be repeated.
My old stain-removing procedure was made more frequent and more inconvenient by having children. I certainly can't leave a bottle of poisonous stain remover sitting around while I wait for the first application to work. That means I need to spray the stain, put the bottle somewhere safe, blot the stain then go back and get the bottle to reapply more stain-removing spray.
The Bissell Stomp & Go pads remove the "bottle filled with poison" hazard from the process. I still need to keep my kiddos away from the pad while it's working, but it's a lot easier to put the pad down on the carpet and keep all of us away from the spot for a while while the pad does its magic!
Wondering how the pad worked?
Here's the after shot of the area that had a set-in cranberry juice stain: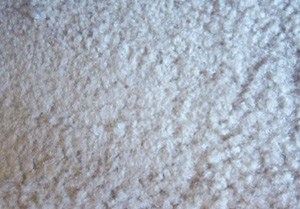 Pretty impressive, right?
Since I'm ever the bargain shopper, I can't help but mention that there are a few ways for you to get a deal on Bissell Stomp & Go stain lifting pads:
There are a few coupons on Coupons.com to save $1.50 off 1 box or $3 off two boxes of Stomp & Go stain lifting pads.
There's also a rebate offer to try the Bissell Stomp & Go pads for FREE!  rebate offer ends 4/15/2012.
I wrote this review while participating in a campaign by Mom Central Consulting on behalf of BISSELL and received product samples and a promotional item to thank me for taking the time to participate.