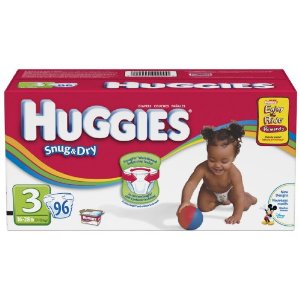 The Amazon diaper deals haven't dried up, but you do have to be on your toes and get your order placed while the right brand and size are in stock! Right now you can pick up a pack of 96 size 3 Huggies Snug & Dry diapers for just $14.51. If you have one of the diaper coupons from recent magazines, you'll even be able to take another 20% off! Here's what to do:
Be sure you're signed up for the free Amazon Mom program (this gives you 15% off select baby items plus FREE 2-day shipping).
Add one box of Huggies Snug & Dry diapers (Size 3) to your cart with the Subscribe & Save option. (This will take another 15% off, making the price $14.51.)
If you have it, add one of the diaper coupons code from the November issue of Parents or Parenting the Early Years magazine to get another 20% off. This will make your grand total $10.50 for a box of 96 Huggies diapers with free 2-day shipping! Otherwise, your total will be $14.51 for the diapers, still a great diaper deal!
Be sure to log into your Amazon account and cancel your subscription with one click after your order ships!
Happy shopping!