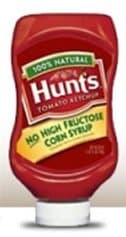 Sometimes I hate to admit it: Haiden loves ketchup. I mean he loooooves it! Recently someone asked him if he liked ketchup. He said, "Love ketchup! Dip French fries!" I never thought I'd have a kid who wasn't even 2 say those words! Honestly, I wasn't even planning on giving my little ones ketchup until they were bigger. I know I was a much better mother before I had kids!
Now that Hunts has introduced 100% natural ketchup, I don't need to worry about it. It's made with all natural ingredients and, best of all, it has no high fructose corn syrup! I'm not an organic cook by any means, but it's nice that the option is available for the food that my son eats the most! Plus, it tastes really good! In honor of this great new product, Moms have a chance to win a family vacation (up to $5,000) through a new photo contest. To enter, go to facebook.com/hunts, submit a photo of you and your family achieving a "simple victory" and you could win that summer vacation you've been longing for.
If your child loves ketchup half as much as mine does, look for Hunt's 100% natural ketchup and feel a little bit better about your kid's ketchup addiction!
Disclosure: I wrote this review while participating in a blog campaign by Mom Central on behalf of Hunt's and received a ketchup sample to facilitate my candid review. Mom Central also sent me a gift card to thank me for taking the time to participate.