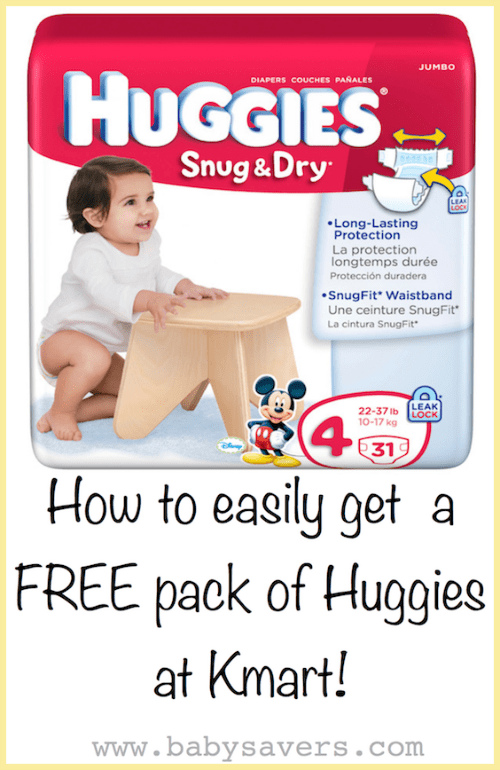 For a very limited time you can actually score a totally FREE pack of Huggies diapers with FREE shipping after cash back from the reputable TopCashBack.com site!

You'll need to have a free Kmart/Sears Shop Your Way Rewards account to have your diapers shipped for free. You can sign up for the program at checkout, OR you can sign up for free as a SYW Personal Shopper and enjoy perks from Sears, Kmart and plenty of other stores!
If you'd rather not sign up for the  Shop Your Way Rewards program you can opt for free in-store pickup and still avoid any shipping charges!
Here's how to get you FREE diapers:
Visit Kmart through TopCashBack.com and search for Huggies Snug & Dry  to quickly find Huggies Snug & Dry diapers priced at $10.99.
Add  one pack of the size diapers you need to your cart and choose Shop Your Way Max for FREE shipping. You can also select free in-store pickup. Either way, you won't pay for shipping and you'll get your cash back.
Complete your purchase online at Kmart.com.
TopCashBack.com will add $12.50 to your account within 60-90 days. You can withdraw your cash via Paypal or have it directly deposited into your checking account (There's no minimum payout so you won't need to wait or spend more to get your cash)!
Note that you'll receive $12.50 in cash back even though the diapers are only $10.99. Even with tax in most areas you'll likely end up making money on this great offer!
The TopCashBack offer is only valid until the end of the day on Sunday, 2/23/2014 and it's only valid while diapers are in stock at Kmart.com.
If you want these diapers for FREE purchase them now while you can!