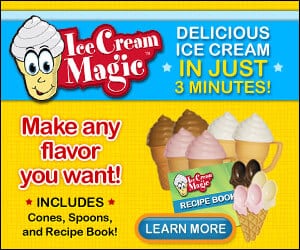 Perfect for summer! Get Ice Cream Magic and make homemade ice cream in minutes! The basic package is just $14.99 + shipping, and comes with 2 cones, 2 spoons and a recipe book!
Quick and easy – ready in just 3 MINUTES!
Make any flavor you like
Use fresh and chemical-free ingredients
Indulge without the bulge and make low fat and sugar free ice cream
This  like it could be lots of fun for this summer!