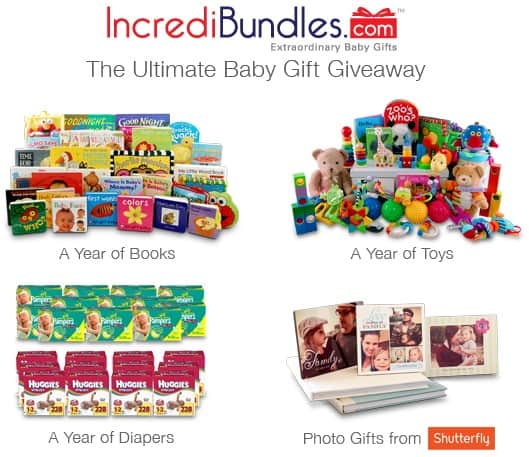 This post and Rafflecopter giveaway provided by Incredibundles.  
IncrediBundles.com, the home of incredible baby gifts, remade the baby gift basket to create presents that are practical and stylish. The company got rid of the plastic and baskets and replaced them with steamlined reusable storage totes filled with the top books, toys and items for babies. IncrediBundles.com features a line of  baby gifts, allowing gift-givers and baby shower attendees to give the baby essentials every new parent wants and needs.

Want to give new parents a supply of diapers? It's easy with an IncrediBundles.com Diaper Bundle! IncrediBundles will send a gift announcement package to your recipient featuring a cuddly bear and a certificate for 3 to 12-months of diapers. Then, each month, mom and dad can select the brands and sizes of diapers they'd like delivered straight to their door!

How about stocking the new baby's nursery with some of the best books for a child's first year and beyond? An IncrediBundles.com Book Bundle is the best in baby book gifts. Give an entire for a spectacular present.

You can also contribute to countless hours of baby play for the new little one! Give a Learn and Grow Bundle or A Year of Toys. An IncrediBundles.com toy bundle provides new parents with must-have toys for lots of imaginative play in that first year of learning.

Now, IncrediBundles.com has partnered with Shutterfly to launch The Ultimate Baby Gift Giveaway!
One  winner will receive all  of IncrediBundles.com's award-winning subscriptions:A Year of Diapers, A Year of Books and A Year of Toys and a fabulous package from Shutterfly that includes birth announcements, a photo book and a  custom photo plaque to keep or give away.
Enter today for a chance to win this amazing prize for yourself or someone you love:
This Incredibundles giveaway is not exclusive to BabySavers.com. The Rafflecopter widget/entry form appears on various websites and on the Incredibundles Facebook page.