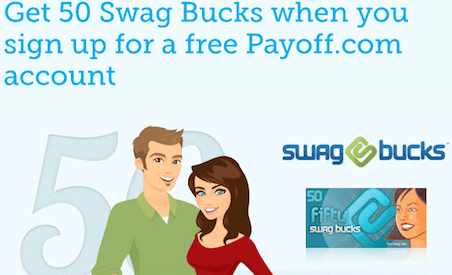 Happy Friday! Not only is it almost the weekend, it's also Mega Swagbucks Friday, which means if you use Swagbucks to search online you have increased chances of winning big Swagbucks in the amounts of 100-1000 points!
If you're not already a Swagbucks member there's no time like the present to join! It's FREE and it's one of the very best ways I know to earn 100% FREE gift cards on the internet! 
Swagbucks is super-easy to use. Just sign up for Swagbucks and use it to do your usual internet searches, just like you'd use Google or Bing. Swagbucks will randomly award points which you can then redeem for gift cards, prizes and more. I've earned lots of Amazon gift cards and several Starbucks cards because I've been participating in Swagbucks for a few years!
This offer on my Swagbucks homepage caught my eye. Sign up for a totally FREE Payoff.com account and you'll get 50 FREE Swagbucks! You don't need to enter any account or credit card information to join.
What's your favorite way to earn Swagbucks?