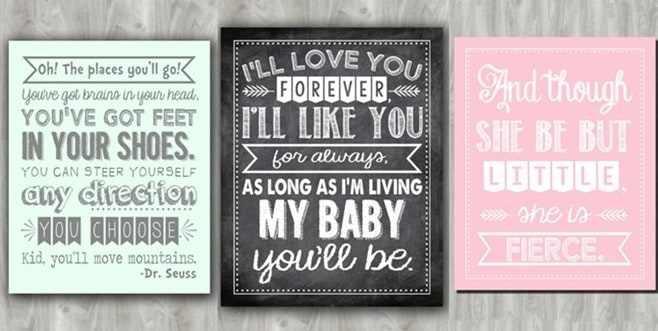 For a limited time at Jane.com, you can get some cute Children's Nursery Prints for just $6.99! Some very cute sayings to choose from. Would make a cute addition to any nursery!
Styles to choose from:
Sunshine: "You are my sunshine, my only sunshine."
Places You'll Go: "Oh! The places you'll go! You've got brains in your head, you've got feet in your shoes. You can steer yourself any direction you choose. Kid, you'll move mountains."
Second Star: "Second star to the right and straight on till morning."
Love You Forever: "I'll love you forever, I'll like you for always. As long as I'm living, my baby you'll be."
Night You Were Born: "Heaven blew every trumpet and played every horn on the wonderful, marvelous night you were born."
She is Fierce: "And though she be but little, she is fierce."
Shipping is $3.50 for the first item and $0.50 for each additional item.