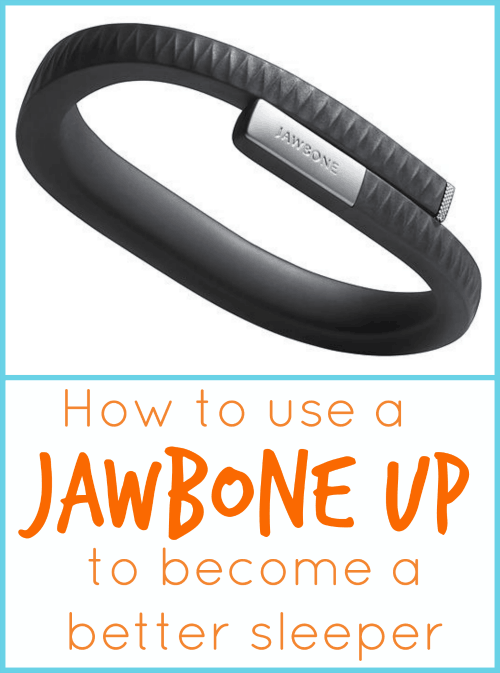 I've never been a "good sleeper." My mom never lets me forget that I stopped napping entirely at 18 months old, and, throughout my childhood well into my adult years, I would always lay in bed for at least an hour every single night before falling asleep.
As it turns out, trouble falling asleep is a symptom of ADHD, which I was diagnosed with just a few years ago. While the correlation between sleep and ADHD helped me feel a little more normal about my inability to fall asleep at night, it didn't solve the problem. When I asked my practitioner about it, she responded with a question that actually made sense to me: Are you going to bed when you're tired? My answer was simply, No. I'm going to bed at the time I'm supposed to go to bed. 
Recognizing that I needed to wait until I was tired to get in bed was a simple but life changing breakthrough. Once I started listening to my body, it would usually take me half the time to fall asleep, and sometimes even less!
Life changed again last year when I got a Kindle and rediscovered my love of reading. Honestly, I'm busy with my family and my home for most waking hours. Throw in keeping this website up and there's little time to actually pick up a book, relax and read. So my routine became:
Spend the day caring for my kids and my home
Spend the evening feeding my family and bonding with my husband
Work on BabySavers when time allowed
Go to bed when I was tired
Read for at least an hour
Fall asleep way too late because I was reading
I've always known that my lack of sleep was an issue, but I never cared enough to track it or take action on it. Then I received a Jawbone Up to use as a Verizon Midwest Influencer. The Jawbone Up is widely known as an activity tracker for keeping track of exercise and fitness. I'm not good at exercise, but I thought it would be fun to see how many steps I take each day, so I've been wearing my Jawbone Up for a few months now.
I love how I can just take the Jawbone Up off my wrist and plug it into the headphone jack of my Samsung Galaxy Note 3 and sync all the data via the UP Android app. Then I can see summaries and analyze details of everything on the UP app on my phone.
I was actually pleasantly surprised to see that I'm averaging nearly 8000 steps a day. It's not the recommended 10k steps, but it's higher than I expected, which means it wouldn't take much to actually achieve that goal.
I was, however, horrified at my lack of sleep the Jawbone Up sleep tracking features displayed. For example: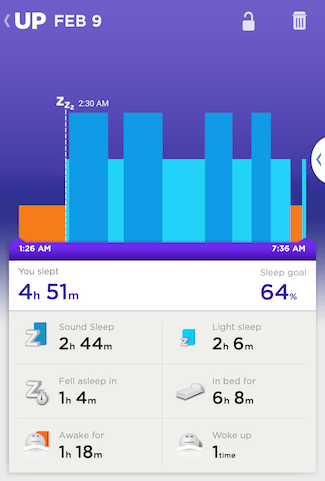 …and this: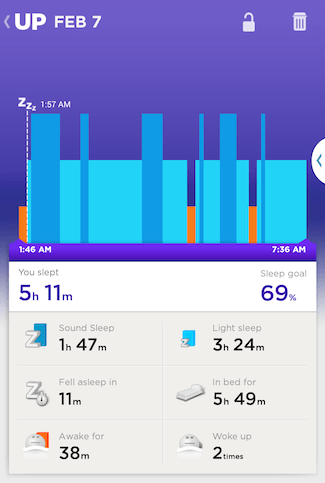 I've always known I didn't get enough sleep, but I guess I didn't ever want to do the math and figure out exactly how little sleep I was getting.
I have to say, seeing graphs and results like these for multiple days over several weeks was exactly what I needed to make some adjustments to my sleep habits. I might not need nine or ten hours of sleep each night, but everyone knows that five hours of sleep just isn't enough!
The biggest change I've made is not waiting until I'm tired to get in bed. Then, I allow myself to read until I'm tired before putting my Kindle down and attempting to fall asleep. This isn't always easy, because it's hard to get in bed when I feel like I could get one or two more things done before sleep. But the adjustment is working! I woke up, synced my Jawbone Up with my phone and was met with this message: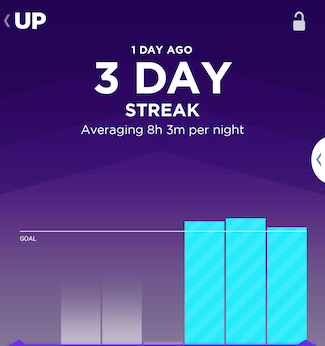 One thing that throws me off about the Jawbone Up sleep tracking is that I have to press the button on the end of the wristband to signal that I'm going to sleep. I don't always remember to do that, resulting in charts that look like this: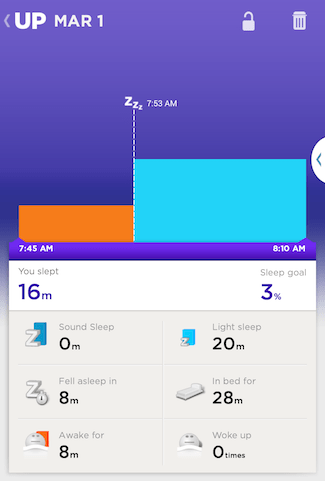 Even worse, it messes with my averages. I can delete the days I forget via that little garbage can icon, but I ultimately wish that the Jawbone Up sleep tracking feature would somehow automatically sense my sleep so it wasn't my responsibility.
Overall, though, I think the Jawbone Up is causing me to make a very healthy and important lifestyle change that I would otherwise continue to ignore. I'm so very thankful I had the opportunity to review this product!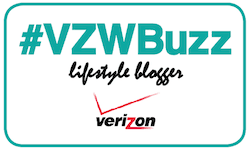 Disclosure: As member of a pretty cool team of influencers, I received the Samsung Galaxy Note 3 with line of service from Verizon. No additional compensation was provided nor did I promise positive feedback. All opinions are my own.