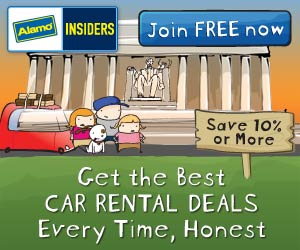 Are you planning any vacations right now?
Even if you don't have a trip in your immediate future, Alamo offers exclusive deals for now and later when you sign up to be an Alamo Insider! Summer vacations are just around the corner, and Alamo is offering special travel bargains when you sign up to be an Alamo Insider!
Join free today and let the best travel deals come to you, including exclusive Alamo promo codes for car rental discounts! Plus, you can take advantage of special privileges like a 10% or more member discount on every rental and self-service kiosks that get you on the road with fewer lines and faster transactions!
One other great perk is you can store your frequent flyer and other travel rewards numbers with your Alamo account. That way, you can easily transfer any Alamo rewards you earn to another travel program and earn free flights or hotel rooms faster! I added my Southwest Airlines and Delta frequent flyer numbers so my account is all set up and ready to earn.
I just signed up for the Alamo Insider list to make sure I get those discounts when we're ready to plan a vacation! It took about 2 minutes to complete the whole form.