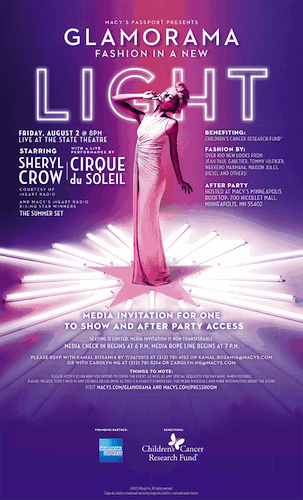 If you're available tomorrow night, you should join me at Macy's Glamorama! Ticket information is below, and it's certain to be a fantastic event!
MACY'S PASSPORT PRESENTS GLAMORAMA 2013
22nd annual fashion extravaganza starring Sheryl Crow with a performance by Cirque du Soleil, benefiting Children's Cancer Research Fund!

Macy's Passport Presents Glamorama 2013, a Fashion Extravaganza, launches in Minneapolis celebrating this year's theme, Fashion In A New Light, at the State Theatre on Friday, August 2nd at 8PM. Multi-talented singer, songwriter, record producer and musician, Sheryl Crow will headline the 22nd annual event. This year's show also features a performance by Cirque du Soleil and Macy's iHeartRadio Rising Star contest winner, The Summer Set. The event will once again benefit Children's Cancer Research Fund.

Topping the list of deisigners this year: Jean Paul Gaultier, Philosophy, Rachel Rachel Roy, TALLIA Orange, Tommy Hilfiger, Weekend MaxMara, and Diesel. Attendees will also get a first look at Macy's newest Impulse collection, Maison Jules launching at Glamorama in Minneapolis.

When: Friday, August 2, 2013 at 8 PM

Where: State Theatre in Minneapolis, Minnesota
Post-party to follow at Macy's Minneapolis 8th Floor Auditorium

Tickets: Price ranges from $75-$1,000 and can be purchased through the Children's Cancer Research Fund at www.ChildrensCancer.org/Glamoramaor by calling 952.893.9355.

Following the light themed show at the State Theatre, experience the illuminated after-party on the 8th floor of the Macy's Downtown Minneapolis store. Refined, sophisticated illuminations lend to the after-party décor theme. Relax in ultra-cool sponsor lounges. Interact with fun activities. Enjoy a vast array of delicious culinary creations and special libations guaranteed to light up your taste buds. Dance the night away as the soundscape from K-Twin 96.3's own DJ Dan lures guests to the dance floor.

In 20 plus years, Macy's Glamorama has contributed nearly $5.0 million to Children's Cancer Research Fund. Proceeds from the event support lifesaving, leading-edge research in the prevention, treatment and cure of childhood cancers and blood disorders. "Macy's is helping us to change children's lives by funding research that is changing the practice of medicine," said John Hallberg, CEO of Children's Cancer Research Fund. "We engage more people in our mission, and provide hope to more families, because of the support of Macy's, their retail associates, and their customers. Their partnership is truly making a difference."

About Children's Cancer Research Fund
Children's Cancer Research Fund has one focused and clearly defined goal: to cure childhood cancer. The organization is the largest single contributor to the University of Minnesota Masonic Cancer Center, a world-wide leader in pediatric cancer research.

Children's Cancer Research Fund's support enables researchers to continue their pioneering efforts in the prevention, diagnosis, treatment and cure of childhood cancers. Many discoveries funded by the organization have revolutionized the way childhood cancer is treated worldwide. For more information, visit ChildrensCancer.org.
Find the best travel and hotel accomodations for Glamorama with Easy Click Travel!
Disclosure: I am receiving admission to this event in exchange for writing about it via this website and various social media channels.