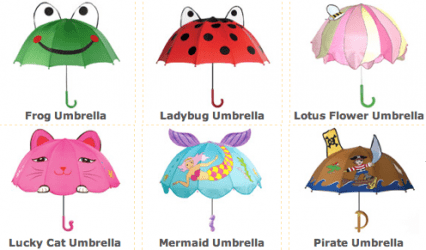 Sign your little ones up for the free Kidorable Birthday Club! According to the site:
Thirty days before the birthday of the children you sign up, we'll send you a free gift, plus a special offer only available to Kidorable Birthday Club members.
I don't know what the free gift is, but I just signed up my own kiddos so I'll share the news when I get it later this year!
Also, if you're planning on doing some shopping there, be sure to use Kidorable.com promo code EASTER33 at checkout because you'll get a FREE Kidorable umbrella when you spend $20 or more! That's a $13.50 value! Kidorable is known for their amazing kids umbrellas, and many "celebrity kids" have been seen wearing and using Kidorable rain gear.