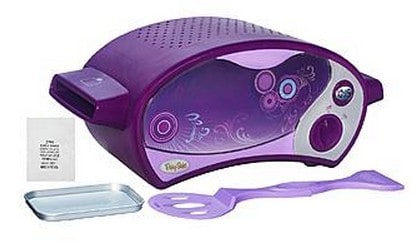 Some people are having a hard time finding this toy right now. Kmart.com has the Easy-Bake Ultimate Oven in stock and on sale for $44.99 (reg $54.99).
Get your Hasbro Easy Bake Ultimate Oven purple and impress your friends with your cooking skills
First treat to prepare with your pals are the 12 delicious chocolate chip cookie bites that are included
Don't know what to make next? There are bunches of delectable mixes to choose from for your oven-all sold separately
Your oven comes with a baking pan and a baking tool, so that you are ready to cook as soon as you get it out of the box
The Easy Bake Ultimate Oven is an electric oven that is made for girls and boys who are 8 years old or older, so be careful while having fun practicing your baking skills and have an adult nearby just in case
Shipping is FREE with SYRMax!