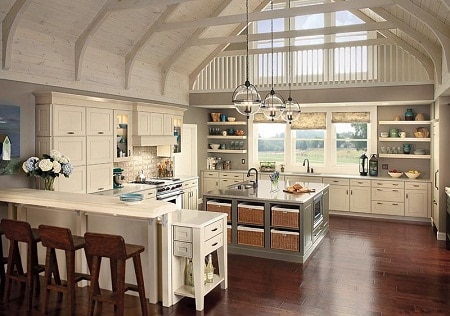 When we moved into our house in 2005 we knew that one big project we wanted to take on was remodeling our kitchen. The cabinets were covered in a sticky, nicotine film, the flooring was peeling linolium, the  the countertops were avocado green Formica, the appliances were almond/yellow and 20+ years old and the walls were stark white. Needless to say, it needed some major updates!
When we remodeled our kitchen, every single aspect of design and product selection was pretty overwhelming. Cost was an issue, but it was also a bit daunting to think that every single choice that we made would be reflected in this project. We would be having lots of people over to see our new kitchen, and all of our selections would be judged and evaluated. Looking back, we would have been doing ourselves a big favor if we had consulted with some professionals with better "eyes" than our own, because we really struggled and drew out the process for far longer than we should have!

Cabinet selection was incredibly difficult, and we just chose ours from the display at Lowes. If only I had known about the Kraftmaid website! This amazing site actually offers some great advice on the entire design process from a great Design 101 that teaches how to create a color scheme and install cabinets to a great Ideas and Inspiration page that helps you find designs tailored to your personal preferences.
Further, the Kraftmaid brand has recently expanded with some fantastic designs:
The 30+ new cabinet door styles fall primarily into one of four leading design styles that are prevalent in home design today: Soft Modern, Modern Farmhouse, Heritage and Coastal. Most door designs are available in both Maple and Cherry. Some are also available in Quartersawn Oak.
Soft Modern reflects homeowners who crave a Zen, spa-like retreat with textural patterns and crisp lines. The three new door designs in the soft modern collection include a clean slab styles in Quartersawn species and modern adaptations of a classic designs with pillowed edges or elegant curves.
Modern Farmhouse combines the feel of metropolitan design with industrial living and the great outdoors. The three new door designs in the Modern Farmhouse collection feature door designs with wider stiles and rails commonly associated with a more modern yet softer look.
Heritage-style homeowners enjoy luxurious, richly embellished design with ornate details, both classically tailored and elegant. The 10 new door designs from the Heritage collection include styles with traditional or ornate applied molding, carved details, mitered corners and elegant beaded details.
Coastal designs are inspired by the casual beach lifestyle and feature a mix of organic materials that are weathered and worn to perfection. The two new door designs in the Coastal Collection feature an informal and more relaxed feel with v-groove center panels and sider stiles and rails.
I also really wish I would have entered and won the Kraftmaid Define Your Style contest to win a $50,000 kitchen model. I can't even begin to dream about what I could with a $50,000 budget, but it would definitely involve knocking down walls and tons of in-cabinet organizing solutions!
While I'm incredibly satisfied with what we did with our kitchen remodel on a shoestring budget, I can only dream about someday having a kitchen as fantastic as this one: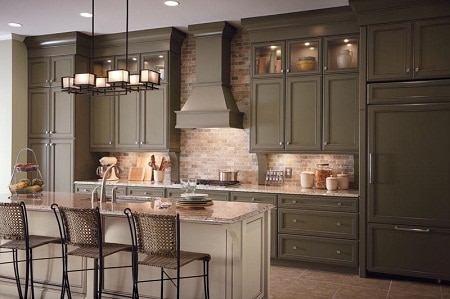 Have you done a kitchen remodel? Did you struggle with all the choices? I'm sure you'd benefit from visiting the Kraftmaid website. If you have a remodel planned for the future, you should definitely enter the Define Your Style contest to get all the funds you need for your dream kitchen!
Homeowners can learn more about the newest product line by visiting KraftMaid.com, a local KraftMaid authorized dealer, or a design center in any Lowe's or The Home Depot store.
I wrote this review while participating in a blog campaign by Mom Central Consulting on behalf of KraftMaid. Mom Central sent me a gift card to thank me for taking the time to participate.