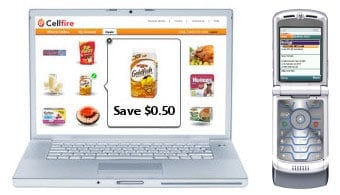 Load any 10 Cellfire coupons on your card and get a coupon for $1.00 off anything valid at all Kroger and Kroger affiliate stores.
You don't even have to use the coupons to get the credit. You just need to load them onto your account before november 15th. The next time you use your Krogrer card you'll get the $1 credit!
This is a great way to cut the cost of a pack of diapers or wipes even more if you find a deal with coupons! Otherwise, I'm sure you'll find something to buy at the grocery store for $1!
Confused about Cellfire? Check out this article: What is Cellfire and How Does Cellfire Work?
Thanks, Freebies4Mom!