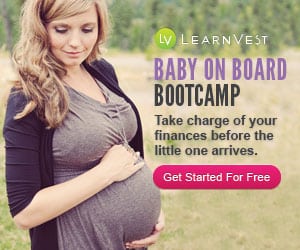 Sign up for the free LearnVest Baby on Board Bootcamp. It's a smart way to wrap your head around all the things that change your financial life when there's a baby on the way!
The LearnVest Baby on Board Bootcamp will send you one email a day with a small list of things to learn. Throughout the bootcamp, you'll get information on topics like:
How to free up money for baby
How to handle maternity leave
How to make health insurance changes
Important details on life insurance, tax breaks and college savings
Career advice, if needed
I remember being pregnant with my first baby and haphazardly making my own checklists and notes for all the things I needed to do. I wish this free program had been available!
I actually just signed up for the LearnVest Baby Boot Camp. My little ones aren't that big and I can definitely brush up on the insurance and tax details of being a parent!