LEGO is one of those toys that I knew I wanted my little ones to play with long before I was pregnant! A long time ago I happened to read an article explaining the benefits and also the practicality of open-ended toys. Those are the toys that foster imagination, that have the potential to be different every time a child plays with them.
Of course, LEGOs  fall into the category of open-ended toys. As I've watched my favorite kids (my own children, 3 nephews and a niece with ages ranging from 3 to 13) grow and develop, I've seen an almost endless amount of ways LEGOs can be enjoyed (and also taken very seriously!).
I can tell you that there have been times for all of them when they lived for LEGOs, and one of those kiddos was extra-specific on Santa's lap this past holiday season when he requested LEGO sets with specific product numbers!
My two older nephews have even extended their love of LEGOs by participating in First LEGO League, which is a competitive program where kids team up to solve problems and create practical, innovative solutions as part of a larger season-long project that's tied together with robotic programming.

As a parent, I appreciate the creativity that LEGOs spark, and I was thrilled when my father-in-law recently dusted off a big case of my husband's childhood LEGOs for our little ones to play with at his house. Yes, LEGO sets have become more diverse and plentiful over the years, but those little building blocks haven't changed a bit. Even better, my son is crazy about the "Red LEGO Case" and he can't wait to dive right in as soon as he gets to Grandpa's house.
All those LEGO sets are amazing and I know my own little ones are going to have them on their own wish lists one day, but it's pretty incredible to see that the same case of little plastic pieces that kept my husband entertained for most of his childhood years is likely going to keep the next generation just as occupied!
While LEGO is without a doubt a classic brand, they've recently opened up a fantastic YouTube Channel with over 500 videos spanning a wide range of topics! I have to say that, although the LEGO YouTube Channel was designed as a trustworthy, safe place for kids to find appealing online content, it sucked me in for a good amount of time this afternoon!
I visited the LEGO YouTube channel with the intention of creating a brief playlist to share with all of you, my dear readers. Creating a playlist took all of a minute, but 45 minutes later, I had forgotten to add anything to the playlist but I had learned a lot about the brand and and how crazy-talented some LEGO fans are in creating "fan videos"!
That variety of content on the channel includes:
Videos featuring themed LEGO sets like Chima, Ninjago, Star Wars and more.
LEGO Club TV covering a variety of topics
Brand information straight from LEGO
Videos about LEGO designers
LEGO video game videos
LEGO board game videos
LEGO fan videos
LEGO TV commercials
Sweet LEGO Duplo cartoons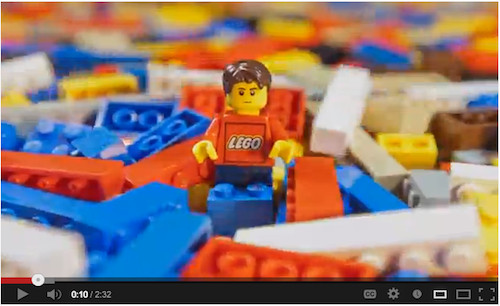 I didn't come close to watching all the videos on the channel, but my absolute favorite is Notes from the LEGO Tub. It's a pretty fantastic explanation of how LEGOs encourage imaginative play. It made me smile and it really made me want to dump out a tub of LEGO bricks with my own little ones and start playing! It's definitely on my own LEGO Channel Playlist!
Building a YouTube Playlist with those videos you want your kiddos to watch is a great way to let them watch videos online while controlling what they see!
There is a lot of content on web; creating a playlist on the Official LEGO® Channelis a great way to ensure your kids are entertained and watching videos you can feel good about. 
Visit the Official LEGO® Channel to build your own playlist to watch with your kids and then reply below for a chance to win one (1) $1,000 gift card to buy your family's favorite LEGO® products!
This is a sponsored conversation written by me on behalf of LEGO. The opinions and text are all mine. Official Sweepstakes Rules.