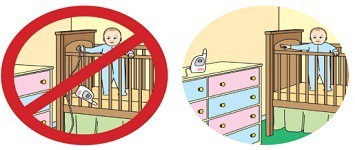 In light of our discussion about video baby monitor recommendations yesterday, I wanted to share a little information about baby monitor safety.
In February 2011, The United States CPSC (Consumer Product Safety Commission) announced the Summer Infant Recall of all video baby monitors with cords.
According to the CPSC recall report, there have been two strangulation deaths and one near-strangulation of two babies and one toddler from the cords on the video baby monitor's camera. The ages of the reported babies were 6 months, 10 months and 20 months, which means it's important for parents of all babies and toddlers to be aware of these tragedies. It's also important to remember that it's pretty likely that there have been other incidents that weren't reported to the CPSC.
All three incidents reported that the cameras were in different positions to view the babies while they were in their cribs. One camera was even wall-mounted! All three cases stated that the camera cords ended up wrapped around the babies' necks.
I also want to state that this is not simply about common sense. As new parents, we exist on little sleep all while making huge lifestyle adjustments to learn how to care for our babies. One day, the baby monitor isn't anywhere near the baby's reach, but little ones grow and develop so quickly, we really don't know when he or she will be sitting, standing or rolling around in their cribs. It's best to have a designated, safe spot for any corded items well before a little one can come into contact with them.
The number one rule of thumb is to keep all baby monitors and other items with cords and strings at least three feet away from the crib.
For more information on how to make sure your baby is safe, here are a few links on baby monitor safety tips:
The CPSC Safety Alert gives prevention tips for baby monitor cords.
If you have a Summer Infant video baby monitor that was included in the recall, you can visit the Summer Infant product recall site to get a safety label to attach to the cord plus order additional wall-mounting clips for free.
If you've experienced similar issues with your own baby monitor or another safety issue with other baby products, the CPSC wants to hear about it! Raise an alert with the CPSC at the Safer Products government website.