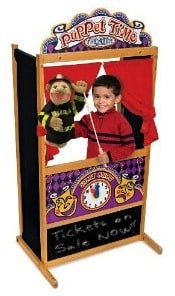 The Melissa & Doug Deluxe Puppet Theater is currently just 447.47 with free shipping–that's Amazon's lowest price ever for this highly-rated activity toy!
43 customer reviews give this item 4.5 out of 5 stars. Read the Melissa and Doug Deluxe Puppet Theater reviews to see what other people think!
It's always show time! This wooden puppet theater has been designed with a sturdy, non-tip base and plenty of room inside for a puppeteer or two!

The stylized theatrical graphics and plush, velvety curtains will inspire creativity and expression in any child. Including a clock with movable hands and a chalkboard panel for playbill information, it's a stage just awaiting imagination! Features:

Recommended Ages: 3+ years Dimensions: 52″ x 18″ x 24.75″ Assembled Contains small parts. Adult assembly required.
Remember, Amazon's prices flip fast and without warning. If you're interested in the puppet theater you may want to snap it up now. The theater also ships for free!