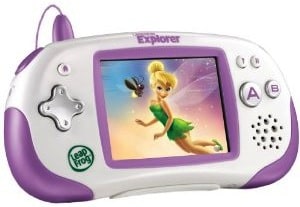 Amazon's price on the Leapfrog Leapster Explorer has been bouncing up and down like crazy over the last month, but it hasn't been this low since just before Christmas last year!
Right now you can snag the LeapFrog Leapster Explorer Learning Game System in pink for just $39.99. That's 43% off the list price of $70!
The Green Leapfrog Leapster is 33% off, too!
I've been considering getting my little ones a Leapster after a new friend's enthusiastic endorsement. I had told her that I was always concerned about screen time, but she reassured me that she was a teacher and that she also carefully monitored her own son's screen time.
She told me that her son taught himself to read at age 3 and he's learned so much that she can directly attribute to his Leapster games, so she doesn't consider it as "mindless" as other electronic entertainment.
Sounds like a great recommendation, right? I'm not making any decisions until after the holiday craziness, but it definitely went a long way in convincing me that it a Leapster might be beneficial for my own kids!