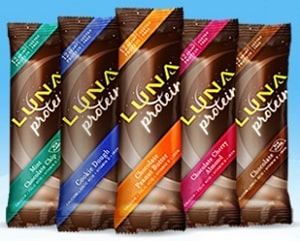 Thank you to LUNA Protein for providing me a LUNA Protein sample pack to review. The opinions I've expressed here are solely my own and represent my honest viewpoint.
Every mom is a busy mom, right? Employed or not, we all have babies to feed, kiddos to get dressed, meals to prepare, mouths to feed, homes to maintain and husbands to care for. Plus, we have to take care of ourselves, too!
As a stay-at-home-mom, I find that my most challenging times are generally just getting out the door when there's someplace we need to be. no matter how prepared I am the night before, I always, always, always find myself running around looking for a missing shoe, or a misplaced piece of paper, or my car keys (yes, I'm a walking stereotype!).
If our appointments are in the morning, I always get car-friendly food ready for Haiden and Piper. They'll have a sippy cup of milk and a breakfast bar, fruit or dry cereal while strapped into their car seats heading to our scheduled destination.
Me? I'm not so lucky. I can tell you that there are many mornings where I'm staring longingly into the rearview mirror really wanting Haiden to pass up a handful of raisins or a few Cheerios!
A great breakfast option that I need to remember more often is a protein bar. I like several brands and varieties, but I just tried a few of the new Luna Protein bars and they're pretty great! I received a pack containing the varieties of Luna protein bars:
Mint Chocolate Chip
Cookie Dough
Chocolate Peanut Butter
Chocolate Cherry Almond
Chocolate
One thing I love about these bars is that there are a few unique flavors that I haven't found in other protein bars. Chocolate Chip Cookie dough is one of my all-time favorite ice cream flavors, and it's definitely a bonus to have those same flavors in a snack that's much better for my overall health!
Speaking of health, these protein bars pack quite an energy punch, and they definitely give me a good boost when I eat them in the morning! With 190 calories or less, 12 grams of protein and 3 grams of fiber, you can see how these bars would help out a busy mom in the morning!
ENTER TO WIN a Luna Protein Bar Prize Pack!
5 winners will receive a prize pack with Luna Protein bar samples plus an extra treat from Luna!




{If you have any trouble entering this giveaway please contact me using the link above and I'll help you out!}
Please click here to learn more about LUNA Protein. I was selected for this sponsorship by the Clever Girls Collective. All opinions are my own. #cleverLUNA