Somehow, somewhere in the past three or four years I've made some sort of mistake that's resulted in something I swore would never happen when I became a parent: I'm raising two picky eaters.
I can promise you that I've done (and I continue to do) everything I can think of to expand their palates. However, nothing has helped the fact that my kiddos will only enthusiastically responded to foods like macaroni and cheese, PB &J, string cheese and grapes.
Now that preschool is on the horizon, I'm thinking ahead to school lunchtime and the food that will need to be packed twice a week. I'm pretty sure I won't be making any creative bento boxes–I'm already imagining the rut we'll be stuck in routine menu I'll be sticking to!
Today, I'm excited because my kids will be getting a special snack on the first day of preschool: new Lunchables Jr. grab & go snacks that are made for kids 3 and up!
After printing out the above coupon for $0.75 off 1 Lunchables Jr., Haiden, Piper and I took a special trip to Walmart.
You can see the story of our trip to Walmart–how we found the Lunchables Jr.'s in the Baby department and shopped for everything on our list–on Google+
.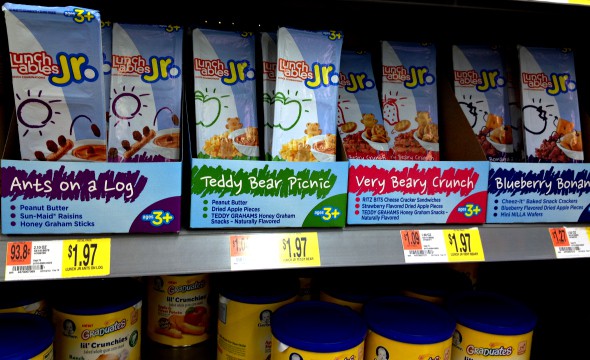 My kids and I quickly found new Lunchables Jr. In the Baby department and we took a few minutes to review the varieties so Haiden and Piper could each pick out their own:
Blueberry Bonanza
Teddy Bear Picnic
Very Beary Crunch
Ants on a Log
Haiden decided he wanted the kind that had the "vanilla cookies" so he choose the Blueberry Bonanza Lunchables Jr.. I was a little surprised that Piper picked Ants on a Log. Sure, they totally allow her to play with her food, but she passed on both Teddy Bear Picnic and Very Beary Crunch–I had no idea she'd pass up anything that included Teddy Grahams!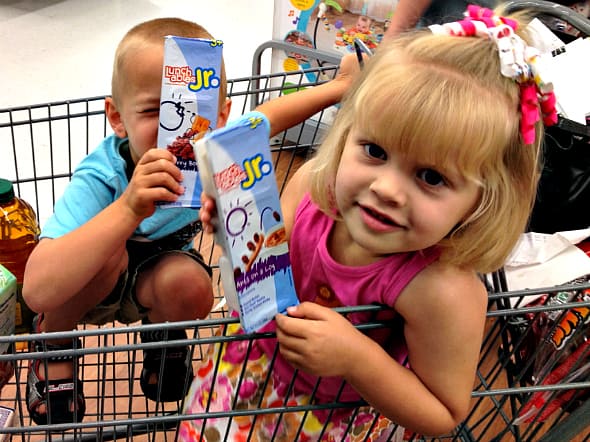 New Lunchables Jr. snacks are priced at $1.97 and are found exclusively at Walmart.  I used two of the Lunchables Jr. printable coupons at checkout, so I paid just $1.22 for each of the packages!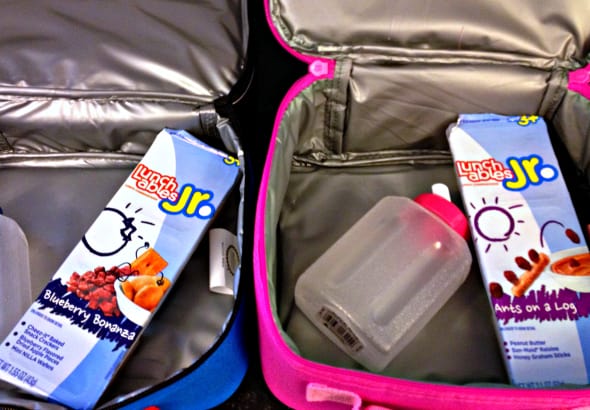 When we got home I had Haiden and Piper put the Lunchables Jr. Snacks that they choose in their new insulated cases so they'll be ready for lunchtime on the first day of preschool. I love that they're already sealed in a kid-sized package that requires no refrigeration. They could definitely be tossed in my purse, but in this case, it makes it so much easier for me to get them packed and ready ahead of time!
I also really appreciate that all of the Lunchables Jr. snacks are made with real fruit–the Ants on a Log have Sun-Maid raisins and the other three varieties have dried apple pieces-yum! Even better, my kids are excited to eat everything in the package!
Be sure to get your Lunchables Jr. Printable coupon before you shop for your own Lunchables Jr. snacks. Both your wallet and your kids will thank you!