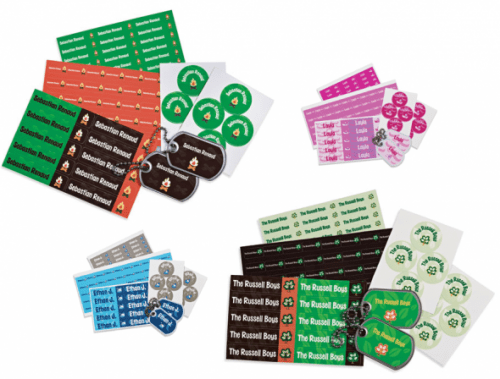 A new Mabel's Labels sale was just announced.  Save $2 off the Limited Edition Camp Combo plus get 2 Free Friendship Bracelets from now through 4/30 (no promo code required)!
Product information:
Early Bird price is $37.95 until 4/30
Sticky Labels and Skinny-Minis™ are dishwasher/microwave safe and UV resistant
Tag Mates™ are laundry safe and UV resistant
Shoe Labels and Bag Tags™ are waterproof and UV resistant
Names on labels are printed exactly as typed, to a maximum of 20 characters
Satisfaction guaranteed
Includes . . .
10 Sticky Labels
24 Skinny-Minis™
8 Shoe Labels
50 Tag Mates™
2 Bag Tags
2 FREE Friendship Bracelets
Mabel's Labels offers personalized labels for your children's and household needs, including clothing labels, shoe labels, waterproof labels, bag tags, and much more. Find out about the Mabel's Labels Paperless Fundraiser Program for your next school, church, or team fundraiser.
To take advantage of this deal, place your order for one or more Limited Edition Camp Combos at MabelsLabels.com by 4/30.  Free gift available with purchase while supplies last.
$3.95 flat rate standard shipping or Free Standard Shipping for orders over $49 within the U.S.  Standard shipping is free within Canada.