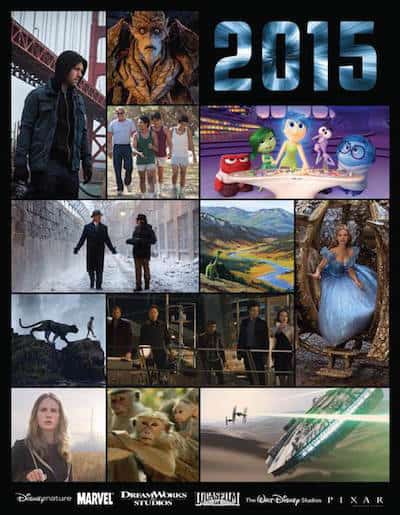 Amazing, exciting things are coming this year for all of us by way of Disney!
If you need a refresher, Walt Disney Studios Motion Pictures distributes films produced by:
Walt Disney Pictures
Walt Disney Animation Studios
Pixar Animation Studios
Lucasfilm
Marvel Studios
Disneynature
Dreamworks Studios
That means there a wide array of films in the pipeline, and I can't wait to see so many of them!
The 2015 Walt disney Studios Motion Pictures Slate:
January 23, 2015: Strange Magic
View the Strange Magic trailer.
February 20, 2015: McFarland, USA
View the McFarland, USA trailer
March 13, 2015: Cinderella
View the latest Cinderella trailer and everything else I've shared about the Cinderella!
April 17, 2015: Disneynature's Monkey Kingdom
View the Monkey Kingdom trailer.
May 1, 2015: Avengers: Age of Ultron
View the Avengers: Age of Ultron trailer and everything else released about the The Avengers sequel!
May 22, 2015: Tomorrowland
View the Tomorrowland trailer.
June 19, 2015: Inside Out
Watch the Inside Out trailer and check out the rest of the Inside Out news!
July 17, 2015: Ant-Man
Watch this link for more Ant-Man news!
October 9, 2015: The Jungle Book
October 16, 2015: "The Untitled Steven Spielberg Cold War Spy Thriller"
November 25, 2015: The Good Dinosaur
December 18, 2015: Star Wars: The Force Awakens
Watch the Star Wars: The Force Awakens trailer and read all the Star Wars news!
I've actually already seen McFarland, USA and I highly recommend it! Beyond that, I'm extra-excited for more than a few of these movies.
As you likely already know, I love to share Disney news on babysavers.com. I'll be sure to post all the exciting trailers, posters and everything else on these movies as they land in my inbox!